Ten minute chicken & sweetcorn noodle soup recipe
I wrote this back in August but it didn't post for some reason. Now that soup season has properly started, we're less interested in light soups – we want warming stodge! – but it's still yummy :)
I usually make hearty, wintery soups but since it is technically summer at the moment, we've wanted lighter broths for our lunches. This chicken & sweetcorn noodle soup fits the bill nicely – not a giant overwhelming flavour bomb on our tastebuds but fresh & light, filling us up without the need for bread.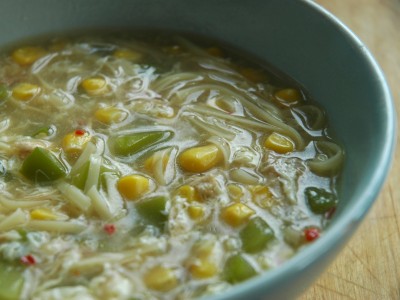 I make this whenever we've got some spare chicken stock – it's a useful, quick lunch for us. If I'm thinking ahead, I put some vaguely suitable flavours in the stock – for example, extra black peppercorns, coriander seeds and galangal.



Quick chicken & sweetcorn noodle soup recipe
Serves 4 as a lunch
Ingredients
1.5ltrs of fresh chicken stock
150-200g-ish of chicken (either the already cooked bits stripped from the chicken carcass or a chicken breast)
A green pepper, finely diced
About 250-300g-ish of sweetcorn kernels
Pinch of chilli flakes/half a fresh chilli, very finely sliced
1 tbsp soy sauce
1 tbsp rice vinegar (or white wine vinegar)
1/2 tbsp of Worcestershire sauce
1 tbsp of honey
A nest of egg noodles (or pack of ramen noodles)
1 tbsp of cornflour, mixed into runny paste with a little water
1-2 eggs, whisked together in a bowl
Black pepper (to taste – but a fair bit)
Salt (to taste)
Optional extras to serve
Rounds of fresh chilli
Rounds of spring onion
Coriander leaves

Method
1. If you're using an uncooked chicken breast, place the breast in a large saucepan/stock pan. Pour on the chicken stock and bring to the boil. Poach the meat in the breast for around ten minutes, until it is cooked all the way through. Take the chicken out of the stock and with a fork, shred into into very small pieces. Put the shredded chicken back into the stock.
If you're using precooked/leftover meat, simply put the stock and meat in a large saucepan/stock pan and bring to the boil. (While it's coming to the boil, I prepare the cornflour & egg so I've definitely got them when I need them later.)
2. When the stock with meat is boiling, lower the heat to a simmer then add the finely diced green pepper, the sweetcorn kernels and pinch of chilli flakes/very finely chopped fresh chilli. Simmer for two minutes.
3. Add the rice vinegar, soy sauce, Worcestershire sauce and honey then stir together. Simmer for another minute.
4. While that's simmering, take a nest of egg noodles and snap it into quarters to ensure that the noodles end up a manageable length! Add that to the soup. The ones we get only take three minutes to cook so I have to crack on from this point – if yours take longer, leave a minute or so for them to cook here.
5. Stir in the cornflour paste – this will thicken it up very slightly — not to a gelatinous level but just a little bit. (Add more cornflour if you want it gloopier.)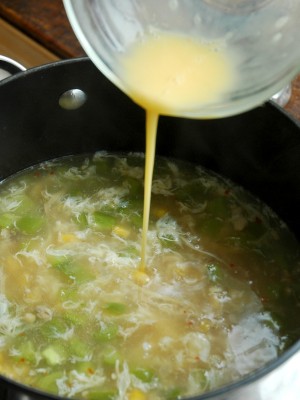 6. Quickly stir the soup to create a whirl then slowly pour the whisked egg into the spinning soup – this should create light egg streaks in the soup rather than heavy lumps. The egg should cook almost instantly in the hot stock. (It's hard to see the movement in the picture above but the white wisps in the stock are what I mean by "streaks")
7. Once the noodles are done (and mine usually are by this point), turn off the heat and season to taste: I usually add a good few grinds of freshly ground pepper and a little salt (maybe 1/3 tsp – although John adds more later, as he prefers it a bit saltier).
8. Divide into bowls and garnish with thin rounds of fresh chilli peppers (or very thin slices of bell peppers if you prefer sweet to spicy), rounds of springs onions and a few coriander leaves/sprigs. (I didn't do this when I took the photos because it was just us having a quick lunch, but I'd definitely do it if I was serving other people :) )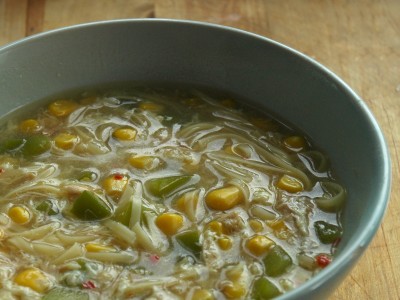 If you try making this recipe, I'd love to know what you think of it :)