Regifting – do you do it? how do you do it?
The other day, a friend of mine, who wishes to remain anonymous for reasons that may become more apparent later, told me he had spent part of his weekend wrapping Christmas presents. I pulled a WTF face – wrapping Christmas presents? in September?!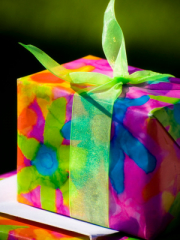 He explained that whenever they have to go to the faff of getting the paper, tags, tape etc out to wrap one present, like a birthday present, they wrap a whole bunch of them at the same time to be more efficient. He added that they also have a cunning present recycling strategy.
Whenever the friend and his lady are given birthday/Christmas/random presents they don't want, they stick a post-it note on it and add it to their to-give present box so it can be regifted in the future without any chance of it ending up back with the original giver.
As I've explained before on Recycle This, I'd much rather not get the gifts in the first place and unlike my super nice friend, I'd rather make things a bit awkward than accept the items because I'm uppity and mardy like that – but I think the post-its are a great, simple idea to avoid re-gifting embarrassment.
Do you regift? Or otherwise give gifts of things you already have around your home? Do you have any strategies to avoid giving them back to the giver?
If you'd never regift, why not? How would you feel if you were given something you suspected had been re-gifted? Would you say anything?