I'm not self-sufficient so what am I?
When I was trying to come up with a name for this blog, I spent a lot of time thinking about the different words and definitions for someone in my situation. The phrase I repeatedly kept coming back to was "self-sufficient" but that's just wrong.
Now I know there are a few people who are truly self-sufficient and others striving for it, but that's never going to be me. Lazy me, the me who likes the internet and chocolate, the me who lives in suburbia, the me who sees a huge value in community and the division of labour. To label myself as "aiming for self-sufficiency" seems hopelessly naive but also inaccurate – that's not my goal.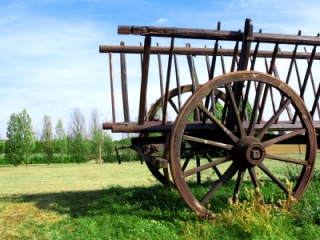 I grow, I cook, I make and I try to live a sustainable & green life – and I'd like a way to summarise that neatly but don't know how. Perhaps I'm over-focusing but words and labels are powerful – created and used by others if we don't do it ourselves.
A lot of people use "simple living" but to me, it has almost negative ascetic connotations of personal deprivation/doing without and also seems a bit wrong for people who document their simple living adventures on blogs, via laptops and their internet connections. (I know the vast majority of people who live simple lives don't do that, it's just easier for me to find out about the ones who do.)
"The Good Life" related terms seem more positive on the face of it – but in the UK at least, there is a mocking element to it too — bad jumpers, experimental homemade wine and poo-powered cars. (An aside: I've noticed when talking to people about how veg crop or chickens, there has a shift in people saying "oh, just like the Good Life!" to "oh, you're just like River Cottage". So there's maybe a term: we can say we're cottagers … maybe not.)
My boyfriend John suggested something along the lines of "self-sustaining" but I worry it has many of the drawbacks of "self-sufficient". I thought about "DIY living" since it suggests the practical element that is core to the lifestyle – but I suspect it might conjure up images of us being obsessed with wallpaper and coving.
What term do you use/prefer? Do you put the emphasis on one part of your outlook than another, for example, calling yourself a "microfarmer" or focusing on "green living" even though green=frugal, sustainable, growing your own etc.?
I'd love to hear your thoughts on this!
(Photo by Patrick Hajzler