Spicy onion soup recipe
One of my fellow drama tutors, Kat, lives off cup-a-soups — she's 19 and working about five different jobs so she can afford to desert us in a couple of weeks and go to drama school in that London. She's always rushing from this job to that rehearsal and that's where the cup-a-soups come in handy. Most of the time I have no reaction to them but the smell of the French onion soup one makes me CRAVE onion soup.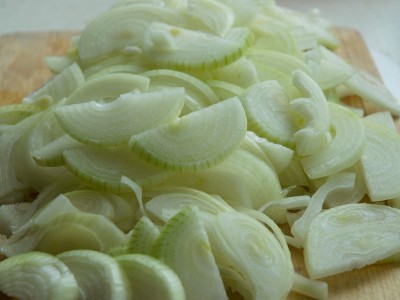 Thankfully onion soup is a fun soup to make — not quick but still easy and frugal. I used to make a (veggie but otherwise) strict version of Delia's but as with many things I cook, it's evolved over the years. Perhaps unsurprisingly, my onion soup is now a little spicy. I do like my spice. Feel free to skip the chilli if you don't like it hot – but the garam masala adds more flavour that heat, so do still use that.
I definitely recommend using a variety of onions if you can – include red onions for sweetness and colour. I used all boring white onions for the version pictured below because I got a big sack of them on a Ramadan special offer last week – I compensated by adding a little more sugar.
It takes a least an hour to make – half an hour for browning the onions then another half hour or so at the soup stage – but the slower the better really. A restaurant in Leeds used to make a 24 hour onion soup – talk about commitment! If I'm cooking other things at the same time, I'll try for an hour for the browning then another hour at the soup stage but if I'm making it for lunch, it's closer to an hour. Either way, the house smells GREAT. :)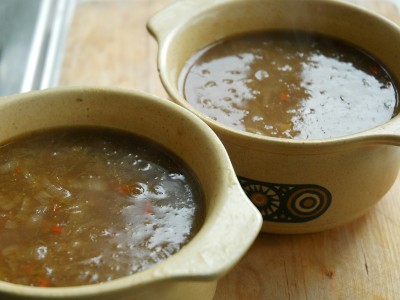 Spicy onion soup
Makes about four portions
Costs about £1.20-1.50 in total, so between 30-40p a portion
Ingredients
500g onions
25g of butter
Two cloves of garlic, minced
1 chilli, finely chopped, or 2 if you want it properly hot
1-2 tsp of light brown sugar
1tbsp plain flour (optional)
1.5 litres of hot veg stock
1/2 tsp of garam masala
2-3 bay leaves
1tsp of worchestershire sauce
Method

1. Slice the onions as finely as you're comfortable with – for me, that's usually about 2mm thick, getting slightly thicker when my vision starts blurring in teary protest at the onion stench.
2. Melt the butter in a heavy bottomed saucepan/stock pan and stir in the minced garlic/garlic puree, then add the finely sliced onions. Stir together and cover with a lid. Sweat the onions over a low heat for as long as you dare – minimum about 15mins, ideally more like 30 but could be as long as an hour. Stir occasionally whatever: sticking to the bottom is fine, but burning is bad. The aim is for soft, light brown onions: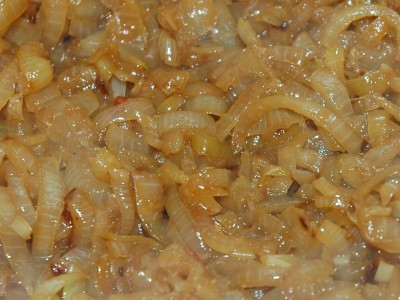 3. When the onions are browned, add the finely chopped chilli and the sugar – as I said in the blurb above, if I'm using sweet red onions (which look ace in this soup), I use a bit less sugar, just a tsp, but when I'm just using basic white onions, I'll use the full 2tsp. Stir in the sugar then raise the heat under the pan to encourage some caramelisation. Stir frequently (particularly the sticky stuff on the bottom of the pan) to make sure it caramelises but doesn't burn. (Delia suggests doing the caramelising before the sweating stage but I prefer to do it this way around because I feel like I have more control over it – when I used to caramelise first, I worried more about them burning in the sweating stage. Feel free to trust Delia on that if you prefer, I just don't like the extra worry :) )
(These onions are just about done – note the caramelised blobs on the right and near the bottom. However, I could keep cooking them until they were nearly all caramelised.)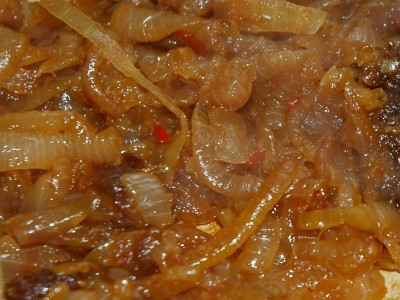 4. If you want a soup with a little more body, stir in the tbsp of plain flour. If you prefer a clear broth, leave it out. (If we're having it with croutons or the like in the soup, I leave it clear, else I add the flour so it doesn't feel quite so wet on the soup, if that makes sense. The picture above is with flour.)
5. Add the veg stock to the pan (and use that to deglaze any stickiness on the bottom of the pan). Then add the garam masala, the worchestershire sauce and the bay leaves. Simmer with a lid on for at least half an hour then serve.
For a lunch, we have it with bread & a strong cheddar cheese.
If you try this recipe, I'd love to hear what you think of it :)