September 2011 – month in review
Wow, this month really flu flew by.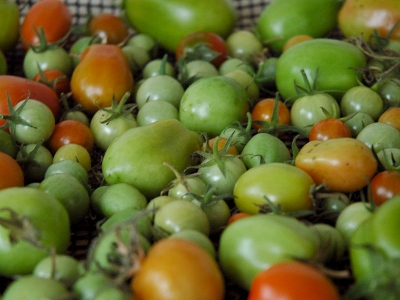 Goals in 2011 progress
Sigh, too ill to do anything much. Still a lot to accomplish in a short amount of time!
Buy less than 12 items of clothing in 2011
I've bought LOTS of clothes this month! Partly inspired by replacements – a favourite (work) top & a (newly holey) pair of jeans had to be decommissioned from general service this month – and partly by the start of term & change of the season. I bought a pair of jeans (excellent second-hand quality from eBay), two long sleeved cotton tops (new) and two t-shirts (new). I also bought a new pair of trainers as my last pair developed a 2inch split along the sole – fixable for dry weather wearing but not for the incoming soggy winter.
Before this month, I'd bought three things, so now I'm up to nine items in 2011. A few months ago – when I had bought anything for more than six months, I'd have been surprised at that. While I didn't NEED these things, my existing clothes (which generally pre-date the start of the challenge by at least six-months/a year) are wearing out.
Growing & Chickens

Because I've been ill, I've not been doing much in the garden – just the occasional bit of harvesting. It is still going better than I generally think but not great guns. Along with half the growers on my Twitter feed, my thoughts are already turning to next year: I'm thinking maybe swapping out a non-productive small tree for a plum, and a couple of not-even-very-pretty decorative shrubs for some more fruit bushes – just got to decide what.
The chickens are still pottering along just fine – Ginger has been broody AGAIN but other than that, no sign of moults just yet, and they're still kicking out four or five eggs a day – a total of 143 eggs across the month, or on average 4.77 eggs a day. Ginger's broodiness is getting tedious – I think she's been broody four times this year now. I think we might use her to hatch some eggs next year and if that doesn't cure her of her need to mother, we might have to … review our options.
Spending
I had a spendy-spendy month – £355.90! (I've noticed a few other bloggers have reported overspending too – must be something in the air!)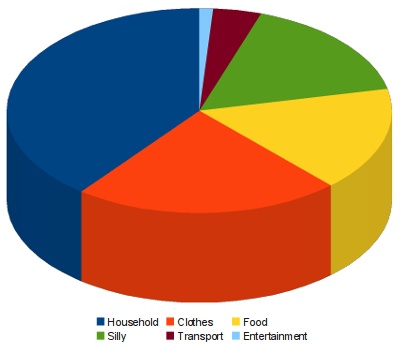 I spent a whopping £328.31 – 92% of it – in the first week and a half! £130 of it was on two new pairs of glasses – I need a lot of fitting help so can't use cheapy glasses websites, but I think really I should have waited until a half-price offer came up rather than a buy-one-get-one offer. Almost everything else was frivolous want-not-need stuff – I bought perfume, a new-to-me (secondhand on eBay) bag for work, some (mineral) make-up and some cute earrings as well as the clothes/shoes listed above. Not the stuff I usually buy at all – and stuff I don't anticipate buying again for a long time. I haven't bought any perfume in about a decade and only wear it and make-up about once a week so they will last me ages. Still though, kerching – and possibly a good job I got too ill to even shop online after that :)
At least though, it has been a good month for extra money coming in – I sold a couple of knackered old phones of John's for £101.40 and I also got a few refunds finalised from things relating to our old house, which we finally sold at the end of July. Admittedly this isn't new cash earned, just refunds of cash I'd already paid out, but I hadn't been banking on getting any of it back because, well, you know how big companies are about refunds so it is nice to have it: I got about £65 back from the council (council tax refund), about £115 back from the insurance company and a huge £726.56 back from the power company. Woo! That's all gone into savings.
And speaking of savings, I've pushed another £200.94 into my savings as part of my "save as much as you spend" thing – by far the most I've had to transfer up to know. My current account is feeling rather depleted right now and I think I'm going to have to try to restrain myself more in October…
How was your September?