Spicy pickled eggs recipe
Keen to preserve some of the summer glut of eggs and add to the super-spicy items in our store cupboard (we never have enough!), I've pickled a few lots of eggs over the last few months.
We finally cracked open the spicy batch earlier this week – yum! Between the tart vinegar and the spices, they're really quite strongly flavoured – but good. We had them with bread & cheese, instead of a chutney, and they were perfect for adding a bit of bite to the proceedings.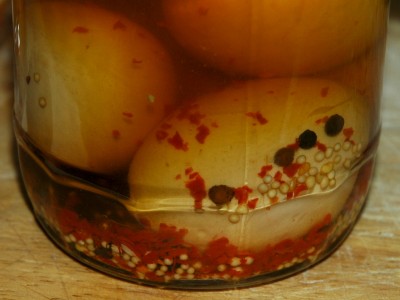 (Apologies for the not great photo – the full jar looked ace but then we ate half of them!)



Spicy pickled eggs recipe
To fill a 2lb jar (we used an old pickled peppers jar from Lidl, kindly donated by Strowger)
Ingredients
8 large eggs (not super-fresh ones – use ones that are at least a week old so they're easier to peel)
450ml of pickling vinegar (white vinegar, at least 6% acidity)
2tsp black pepper corns
2tsp yellow mustard seeds
1tsp dried chilli flakes
Method
0. Sterilise your jar – wash it in hot soapy water, rinse well in hot clean water, then place in the oven at 160C/gas mark 2 ish, for about 15 minutes. The lid of the jar should be washed and rinse – it needs to be a vinegar proof lid (plastic lined).
1. Hard boil the eggs using your preferred method – if you don't have one, obey Delia. Cool them as Delia says then remove the shells.
2. Add the vinegar and spices into a small saucepan. Stir together and bring to the boil. Simmer for a couple of minutes – with a door/window open because man, it stinks.
3. While the vinegar is simmering, place the eggs in the still-warm jar then when it's done, pour the vinegar on top of it, making sure the spices pour along with it and don't all stick to the side of the pan. Fill the jar to the very top then seal it.
4. Leave somewhere cool and dark for at least three weeks.
Once they're ready to eat, have them as a part of a salad, with bread & cheese like we did, or make them into a really interesting tasting egg mayonnaise!
Have you made this? What did you think? I'd love to hear your thoughts!