This year's winter preparations
Yesterday I picked up my crochet hook for the first time in six? seven? months. I can't stand the feeling of yarn between my fingers during the summer, and the early warm spring this year meant my crochet embargo started earlier than normal this year. Yesterday though, I found my favourite bamboo hook and grabbed a misc selection of DK yarn to crochet a stripey draught excluding snake. Flames flickering behind the stove glass, cats liberally applied around my lap/feet and yarn in my fingers — forget autumn, winter feels like it's already here for Team Peach.
Due to meh-ness and illness in September, I'm a bit behind on my winter preparations – still a few things to do before the season really sets in. Some people are saying it's going to be as bad as last year, some people are saying it's going to be worse and start earlier. I have no idea but I'd rather prepare just in case.
Us & the animals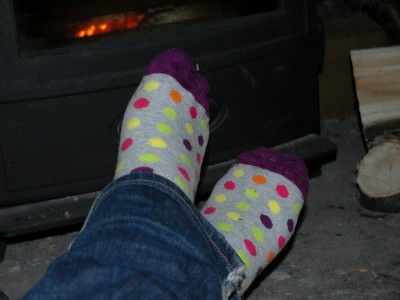 1. Wash all our winter coats, scarfs & gloves I'm really kicking myself that I forgot to do them during that heatwave week last month, when I washed absolutely everything else in the house made from fabric. My coats (my everyday winter coat and my really big heavy one) might have to be dry-cleaned, I'm not sure. I hate dry-cleaning for many reasons but if I get another year or so out of the old coats, it'll be worth it.
2. Check we have sufficient quantities of warm socks etc I think we do, and John tells me his vests (which nearly all predate our nearly 10 year relationship) are fine too – worth checking though. I might get a pair of long johns/leggings for under my jeans for dog walking rather than just wearing tights (I hate tights).
3. Make a giant bean bag for the office So the spoilt, spoilt cats & dog can sit near the stove in comfort ;)
4. Make sure we have good supplies of our store cupboard essentials & animal food Supplies being cut off further upstream is always possible in bad weather but a more likely issue is us being too lazy/cold to fancy going to the shops.
House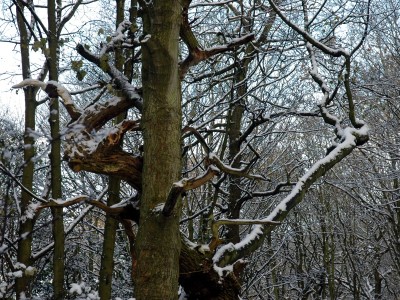 I wrote a list of house "to-do"s before last winter and while big renovation things have taken a LOT longer to do than I thought (and some not happened at all), we did most of the things on my list. Most recently, we've replaced our old falling down single-glazed sun-porch so it's now less draughty, better insulated & not leaking — it'll now provide a really useful "air lock" for the front door to stop lots of cold air shooting around the house.
1. Curtains for bedroom One thing from last year's list that I still haven't done. We don't use curtains in the bedroom for most of the year – it faces east into a wood so isn't overlooked and the morning sun is lovely – but really need decent ones in the winter for heat retention.
2. Check if the thicker duvet needs washing & if so, wash We've got an "all seasons" duvet (a thin duvet & a thicker one that click together to make an uber-one). The thin one is still warm enough for now but won't be for much longer.

3. Curtains for living room We were supposed to renovate the living room before last this winter and replace the shoddy, never-used curtains then – but it hasn't happened yet. It *might* happen in the next couple of months but if not, we need to get better, usable curtains for in there and/or fix up the shoddy ones so they're actually practical to use.
4. Buy a new (bigger) slow cooker The ceramic dish of my old one broke and I'm going to take this as an opportunity to buy the bigger slow cooker I should have bought in the first place. We can't get through winter without casseroles, stock for soup & rice pudding!
5. Fit door handle on the landing door If we shut the door to stop heat into escaping to the (unused for most of the winter) attic room, it's bloomin' hard to open again at the moment! Fitting a door handle means we can close off that draught-causing heat sink.
Edited to add:
6. Sweep chimneys This was on John's to-do list so I forgot it earlier. Think we're going to get someone in this time to see whether we'll be able to manage it ourselves in the future.
Garden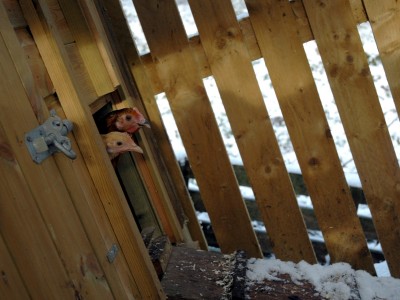 1. Tidy up greenhouse & take remaining greenhouse plants into house for overwintering There are a few of tomatoes left to pick and then those plants need removing. I'm going to try overwintering chillis in the new sun-porch and the kitchen this year so they need to go into the house ASAP.
2. Pop all containers holding soft fruit & delicate herbs into the greenhouse To protect the plants & the pots (especially the terracotta ones). Will do some "fleecing" too.
3. "Roof" a section of the chicken run The wet weather of the last few weeks has convinced me that they need more covered areas (they already have some but more would be better). Have to do it in a spot that I can easily reach to clear snow though.
4. Secure gangly in-ground soft-fruit bushes Our raspberries & some of the blackcurrants are a bit lanky. They need securing so they don't get blown over & broken.
5. Sort out the wood pile, cut more "easy grab" logs & fill kindling bin I think we have enough wood for the winter, we just need to make it a little more … user-friendly. Right now, I'm happy to poke around out there and cut stuff as needed, but if it gets as chilly as last year, we might not be so keen…
Eep! lots to do!
What have you got to do before winter properly starts?