Line drying – Petra's peg airer
One of my top 5 clothes line drying tips is to use a "peg clothes dryer thing" – it stops the little items taking up space on your main line and is easy to take inside if it starts raining.
Petra left a comment to say she'd made her own from "some electricity pipe, an old iron coat hanger, some rope and pegs". I asked her to send a picture for inspiration for when I make my own and here it is: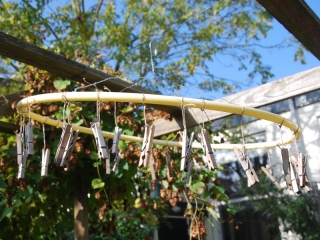 How great is that! Simple but does exactly what it needs to do!
Thanks so much for sending over the picture, Petra!