Declutter November mini-challenge week 3: the kitchen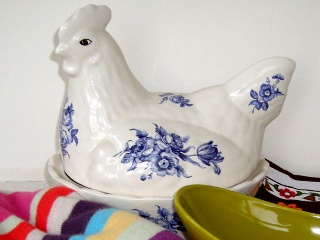 Our kitchen is just about smallest proper room of our house but is also the most tightly packed: all the usual food, utensils, crockery etc but also the more specialist stuff for our cooking-related hobbies such as John's wine making and my preserving. I'm sure that's not an unusual situation for simple living-type people.
At the start of the month, I was thinking about what needs to be in our store cupboard but in order to keep that full and productive, I think I need to sort through our pantries and clear some space: be realistic about what we won't use at all or something we just need a bit of encouragement to use up (and not replace).
So the mini-challenge: in addition to your one-a-day decluttering, get rid of five extra items from your kitchen. They can be food, tools, pleasantly chintzy but impractically small chicken-shaped egg holders or whatever.
(I'm personally also going to take the opportunity to think about making more space the kitchen – even if it just means moving things to other parts of the house. We've got a mini-utility room now and I think more under-the-sink stuff could go down there. And used-once-in-a-blue-moon spare cups etc can go into storage somewhere else. That won't be as satisfying as just outright getting rid of things but it'll help us use the kitchen better so will be a step in the right direction.)
What can you get rid of? Can you move anything to somewhere else to make more usable space?