Declutter November mini-challenge week 4: your hobby/craft stash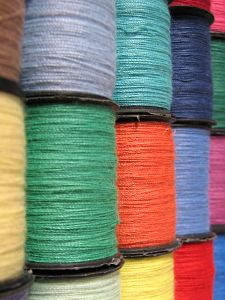 Ah, you knew this one was coming, didn't you? ;)
I've also deliberately left it 'til last as I imagine most people will have dipped into their hobby stashes already – hopefully though having a focused look at it will help everyone (and me especially!) prune further: get rid of extra five things (or sets of things), in addition to your normal one a day.
The original idea for this was "declutter your craft stash" but I know that not everyone is crafty so I've expanded it to being whatever you hoard for your hobby. I'm assuming everyone taking part in the challenge hoards some stuff – if you didn't, you wouldn't be needing to declutter ;)
For me, I'm going to look at my yarn stash and my fabric stash, and at my books yet again because I always can prune them further. My t'other half John doesn't craft but he hoards (or certainly did in the past) computer related stuff so I'd imagine he could find five things to get rid of there, and he's a reader too so I'm sure he could find a few books he wouldn't read again.
So whatever your poison – be it cooking, a craft, a sport, a game, a performance art or collecting something – have a look through your tools/equipment, your materials stash, your collection or whatever, and see what can go.
Think about what no longer any use to you – clear some space and maybe even pass it on to someone just starting out in your favourite pursuit!