Book Review: Stitch Step by Step by Maggi Gordon and Ellie Vance
It was a moment of serendipity when I spotted this book, Stitch Step by Step by Maggi Gordon and Ellie Vance, on the "new additions" shelf at the library back in September – I didn't know it but I was about to get poorly sick — not ill enough to just collapse in a heap but not well enough to, you know, move. I suddenly found myself with a lot of sewing playtime!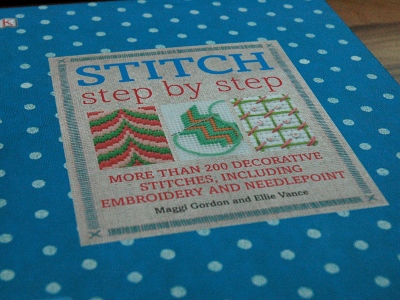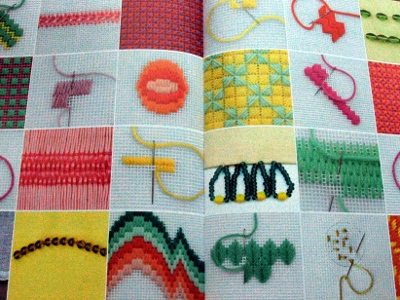 The design of the book grabbed me from the outset: the pretty blue/dotty cover; the clear, well laid out tutorial pages; and the stitch galleries, oh my, the stitch galleries.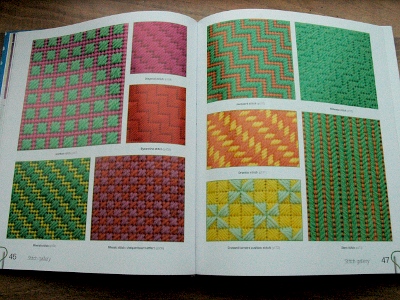 I think it's worth noting that I'm quite new to embroidery. I've cross-stitched for a few years now but I've not spent a lot of time looking into the different stitches available when you break away from the cross (or fractions of it) and backstitches. The stitch galleries in this book really opened my eyes to the different possibilities – I could suddenly see the appeal of making samplers! As this is nearly all counted-thread work, it didn't seem a million miles from my cross-stitching and it gave me the confident to jump straight into some stitching myself.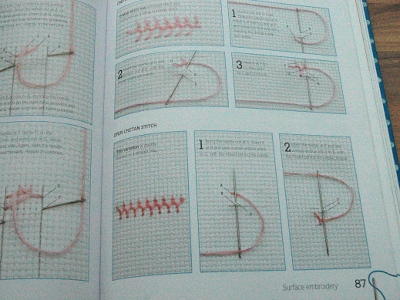 I'll admit, I followed a handful of the tutorials because it was clear to see what to do from the stitch gallery pictures but those that I did follow were clear step-by-step guides as the title of the book suggests :) The pictures were crisp, with good fabric/thread contrast so it was easy to see what was going on. (The one I "chose" to take bad pictures of to illustrate this point is probably the least contrasting one but you can see the layout.)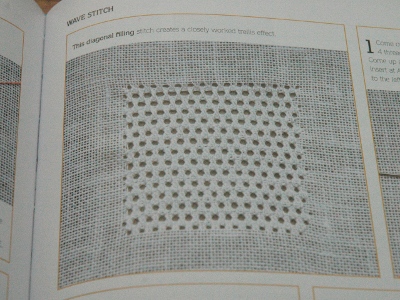 In addition to the colourful thread work, there were also sections on whitework – which was a new concept to me (the idea of using the stitches to open up holes in the fabric I mean, not just the white-on-white stitching), using beads & sequins and on designing as well as stitching Florentine/Bargello work. Purr. Me like!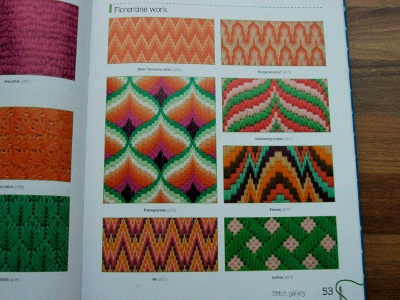 As with all tutorial books, they covered the basics as well – how to use embroidery hoops, useful tools, finishing and whatnot – which again, was useful for a newbie like me.
Overall, I didn't read this book cover-to-cover or feel like I wanted to try every different stitch/tutorial – but it's not for that: it's for providing inspiration and reference, and I think it does those things very well.
I did have two minor problems with it though – both design issues. Firstly, I had the hardback version from the library. Apparently there is a paperback version available too — I think the hardback would be better than that but better still would have been a ring-bound hardback, that could have sat open of its own accord on my knee while I was stitching.
The second problem I had was a minor – but very annoying – thing: each page number was decorated with a cute image of a needle and thread. I would see it out of the corner of my eye and try to brush it away. On every. single. page. Sometimes multiple times on each page. ARRRGGGH!! ;)
All in though, I'm very glad I came across it and next time I'm in a sewing mindset (I'm all about crochet at the moment), I think I might have to add it to my bookshelf at home.