Demolishing someone else's living room
We cleared just about all our stuff out of our living room last night (bar the sofas, the coffee table, the bean bag and, um, a pink flip flop) as we were supposed to start demolishing our giant dated fireplace today.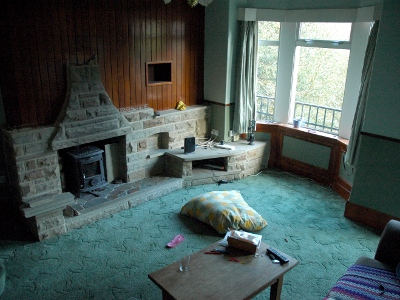 Demolition has now been put back until this weekend but without our junk in it, we've just got a big empty room that doesn't feel like ours any more. We have photos of us in the completely empty living room the day we got the keys for the house and it feels like that again – someone else's home. We've not done anything to the living room really since we moved in — it's always been on our "OMG must do!" list but because it's likely to be a messy job and other things have taken priority for practical reasons, we've not got around to it. We were supposed to do it the first spring we were in the house – 2010 – so we're only a couple of years late, which is pretty good for us.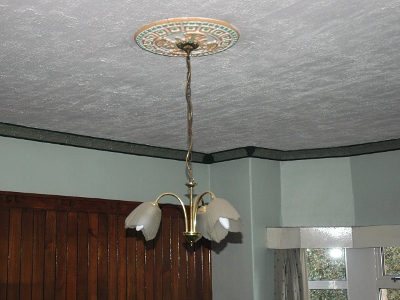 The decor – which includes the strangely painted (polystyrene) coving and ceiling rose above – is … not our taste at all but we've been happy lazily accepted it over the last couple of years. We'll be glad to see it go though – the fireplace takes up so much space considering how little space there is for an actual fire/stove and the panelling is really imposing.
It is going to be quite an expense but it'll hopefully be more than just an aesthetic improvement – we'll gain quite a bit of space where the TV stand thing is (we think there is a deep alcove behind that area), we will be able to get a bigger wood-burning stove (which will be more efficient at warming the house in general than our current little one) & more efficient radiators, and we'll be able to get better curtains & a door curtain (there is an external door to the balcony just at the right of that top pic) which will stop draughts. From a comfort/usefulness point of view, we're also going to get a new-to-us sofa that makes better use of the space. Plus demolishing stuff is really fun ;)
I can't wait to see if our alcove predictions are true and what the original fireplace is like behind the nasty modern one — we found this in boarded up in our office: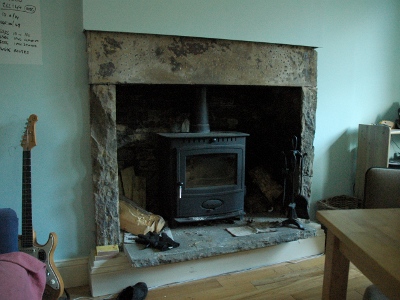 We don't think the living room one will be quite as big but who knows? An exciting weekend of discovery ahead!
What are you going to be getting up to this weekend? Will it include a crowbar too? ;)