In my life
I have a giant to-do list today – work stuff, voluntary work stuff and stuff at home – so I think I need a brief take-stock breather :)
Outside my window is just so lovely right now. It has been raining on and off all morning but right now there's bright sunshine, an equally bright blue sky and the bottle-green leaves of the holly bush are shining. Someone really supped up the colour levels out there today.
I am thinking about the mega to-do list of doom, about new projects & old stalwarts and how I'm going to make something fun & geeky in a few days when my Fimo order arrives :) I am also thinking about the pack of sweet cicely seeds I randomly found in my desk last week – whether it's too late to plant them now or whether I should give it a go.
I am thankful that John's bad back – which has left him pretty much unable to move since Friday – seems to be getting better.
From the kitchen, we just had a bit of a random "what have we got in the cupboard/fridge?" lunch but we're having a perfectly wintery beany beef stew for tea (our version of this, with cornbread, because mmm, cornbread!) and we had these lemon-garlic chicken thighs for dinner last night – although I couldn't bring myself to use the same amount of oil or 30 (!!) cloves of garlic as the recipe suggests. I was a little worried that it would lack flavour/punch because of that, but it was surprisingly delicious.
I am wearing just about the only warm top I own which has neither a hood or a pouch at the front. I keep forgetting and try to put my hands in the non-existent pouch. In another clothing-related mishap, I forgot to put on my second pair of socks this morning so even though these ones aren't threadbare like the other day, I still feel nude in just one pair of socks!
I am creating sadly very little. This will hopefully change soon!
I am going to take the Lily-dog for a walk before the lovely sunshine disappears again – just think, this time last month, it would already have been dark!
I am reading The Perks of Being a Wallflower by Stephen Chbosky. I'm not that far into it – it's pleasant enough and there have been some lovely turns of phrase but it's not wowing me just yet.
I am hoping that I can get back on top of things soon. I feel like I've had a mental energy required/energy available mismatch since at least the start of the year – like Rachel, I've been largely hibernating and I'm fine with that, but I have to come out of hibernation sooner or later!
I am hearing not a lot of anything, other than the clack-clack sound of my own typing. John is upstairs in a back-pleasing position on the floor so I'm alone in the office, excepting for my canine companion of course – and for once she is silent! Sleepily silent: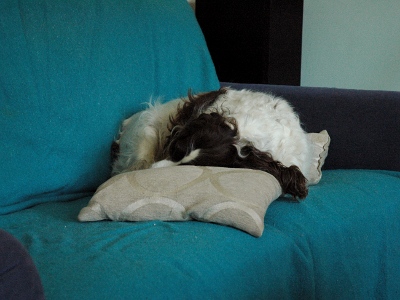 Around the house things are still in a state of chaos as the plasterer has pushed us back another week or so. Between last weekend's coldness and this weekend's John-bad-back-ness, it's been a bad fortnight to be living in a half-demolished living room — no stove to keep us warm, no TV for watching films to pass the time… Still though, two good things: the blue winter sunlight is making everywhere look beautifully muted and even though I did it without my glasses on so couldn't see much of anything, I did a pretty good job of cleaning the glass/mirror in the bathroom this morning :)
One of my favourite things aside from John's back improving, the gorgeous weather, yummy food and surprisingly clean glasswork in the bathroom, I got a parcel of lovely things through the post this morning. Ok, I selected and bought the (very heavily discounted) lovely things but still, it's nice to get fun things in the post and they're all as nice/nicer than I thought they would be so I'm very happy.
A few plans for the rest of the week hopefully getting on top of stuff, hopefully making stuff with Fimo if that arrives soon and a belly-dancing workshop (!) – we're running the latter for the kids at drama but I think I'll have to show willing and get involved too, much like I had to do with the Arabian-scale singing last week. I am no more of a dancer than I am a singer. Thankfully the kids at class are far more talented than me!
How's your day been? What did you get up to over the weekend?