More WIPs – some wet felting
In my effort to get back both into the habit of blogging and the habit of making fun stuff, I've spent the afternoon wet felting.
I felted various misc knitted things over the years but I had an urge to try my hand at felt artwork over the summer, after falling in love with Marmalade Rose's meadow pictures. Click on that link to Fiona's site and gaze in wonder at the header picture, and all the other ones down the side – really gorgeous work. The mother/daughter combo rosiepink also make lovely stuff.
Anyway, armed with those fabulous pictures in my head and the leftovers from a "Moorland" inspired mixed colour pack of wool roving, I sketched them felted a small woodland scene in July. I've done about half a dozen other little pieces since then, but that first one was my favourite/the best. Even accounting for my limited artistic talents and felting-newbie clumsiness, they've all just looked … fuzzy and untextured compared to other people's work. Then today, I realised that's because the "embroidered" or "embellished" bit isn't an optional add-on, it's key! So did I spend the afternoon sewing and embellishing the old pictures? No, I felted some new ones ;)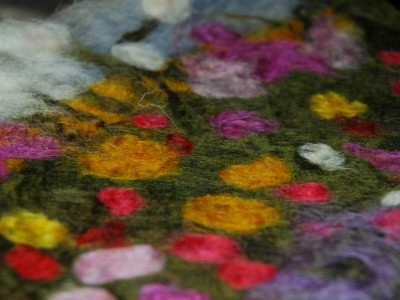 I did flowery one (close up shot above) and then, wanting to work on something a little more specific, attempted a stylised picture of Staithes (a close-up/partial pic below – it's supposed to be the Cowbar side, as viewed from the beach, if anyone knows the village). As with, ahem, all my other half finished things I've posted about this week, I'll post proper full pictures when they're finished – all embroidered and embellished. I think I'll need to trial-and-error a lot of stuff on that side of things – quite glad I've got a few "meh" felts to practise on ;)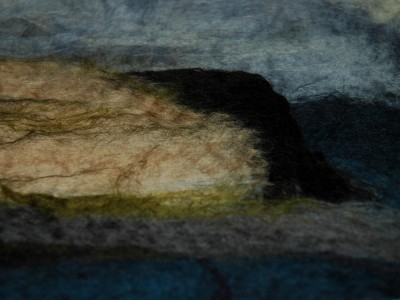 I still think know I have a helluva lot to learn about the felting process too actually. I think I'm still being too gentle and as with drawing/painting, there is a communication issue between what my head commands and what my hands produce. I've been making small pieces – about A4 size, so I can do all the wet stuff in an old turkey roasting tin – to not overface myself/waste excess materials but I think that's half the problem – I find it hard to command the roving to do intricate stuff. Still though, I'll press on!
Have you tried felting, either after knitting/crocheting the wool or using loose strands of roving like this? If so, any tips to share with a newbie? :)