I made some spicy butternut squash soup for our lunches this week and as usual, cut off the rind before cooking.
If the rind is thin, it doesn't really need cutting off – but the soup is so deliciously smooth that I don't want to risk coming across bits of tough rind in it.
There isn't really enough squash meat left on the rind for the chickens to be able to pick it off but I decided to boil up the small pieces of the rind in some veg water from earlier in the evening and see what happened.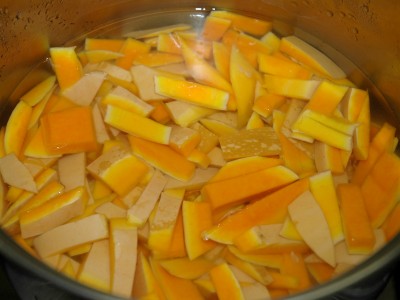 What happened was I didn't put enough water in then forgot about it and burnt it. Sigh. It's the first thing I've ever properly burnt on the stove – it smelled like Halloween & Sunday roasts from childhood (when the carrots caught occasionally).
But at least some of it was salvageable – I took out the worst of the burnt bits and added a little more water. The result was a fairly thick soup (made from the squash meat left on the rind), with soft rind pieces.
I served it lukewarm as their warming lunch treat and the chickens loved it. Next time, I'll try not to burn it.
Read More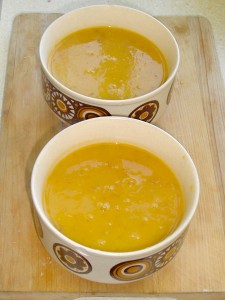 I made this spicy butternut squash soup for lunch for John, Strowger and me yesterday; Strowger liked it so much that he wanted the recipe so I thought I'd put it on here :)
For us spice fiends, it's more flavourful rather than head-exploding spicetastic – if you'd prefer the latter, just add more dried chilli flakes. The flavour comes more from the cumin & ginger than from the chilli.
If you don't have a blender or stick blender, using a potato masher to squash the … squash when it's ready. The resulting soup won't be quite as smooth but it should break down easily to give a chunky soup consistency.
Spicy Butternut Squash soup recipe
Makes: 5-6 decent size servings
Total cost: the butternut squash was £1 so probably about £1.50 in total
Ingredients
1 large onion
25g of butter
2 cloves of garlic (or 2tsp of garlic puree)
2tbsp of cumin seeds
1 large butternut squash (it weighed about 3lb before any prep)
1.5ltr of hot veg stock (ish)
2 large pinches of dried chilli flakes (add more or less depending on your spice tolerance)
2tsp of ground ginger
Black pepper
Salt (to taste)
Read More