I made this for lunch yesterday for John, Strowger and me yesterday and Strowger wanted the recipe so I thought I'd put it on here :)
For us spice fiends, it's more flavourful rather than head-exploding spicetastic – if you'd prefer the latter, just add more dried chilli flakes.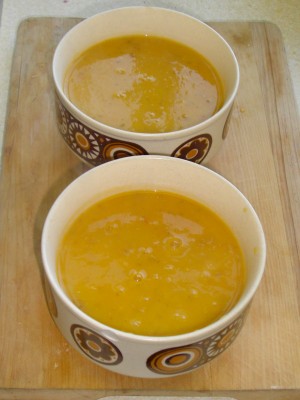 Spicy Butternut Squash soup recipe
Ingredients
1 large onion
25g of butter
2 cloves of garlic (or 2tsp of garlic puree)
2tbsp of cumin seeds
1 large butternut squash (it weighed about 3lb before any prep)
1.5ltr of hot veg stock (ish)
2 large pinches of dried chilli flakes (add more or less depending on your spice tolerance)
2tsp of ground ginger
Black pepper
Salt (to taste)

Method
1. Finely dice the onion and crush the garlic.
2. Melt the butter in a stock pan over a medium heat then add the onion, garlic and cumin seeds. Cover and allow to sweat for about 5 mins or so, until the onion is pretty soft.
3. Meanwhile, peel and de-seeded the butternut squash, then cut the flesh into small chunks, 1cm-ish cubes. When the onion is soft, add the butternut squash to the pan and stir together.
4. Add the stock to the pan and stir through, then add the chilli flakes, ginger powder and a really generous crank of black pepper. Add salt at this stage too if you want it in there – between the stock and the butter, it's already salty enough for me but I think I'm a bit of a salt-hating freak so you might want to add some more.
5. Cover and simmer for about half an hour, until the butternut squash is soft. Remove from the heat and using a hand blender, blitz until smooth. It's only really at this stage that you get an idea of the consistency: if it's too thick, return to the heat and add more stock/hot water and stir through until it's fully integrated (a good few minutes); or if it's too thin, return to the heat and reduce until it's more solid.
6. Some fancy people might serve it with a dollop of creme fraiche and a curl of fresh red chilli on the top. I serve it with bread and a hunk of cheese.
Yield: 5-6 decent size servings.
Total cost: the squash was £1 so probably about £1.50 in total
Have you made this? What did you think? I'd love to hear your thoughts!
Related posts: