Spicy tomato and lentil soup is a great, hearty soup, which can be made quickly & simply – and from cheap, store cupboard items. As a result, it's one of my favourite emergency soups when we need something quick and warming – it only takes about 30mins.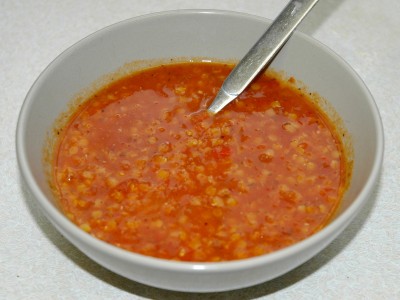 The observant may notice a pattern with the things I cook. What can I say, we love spice-inspired endorphins. ;) Again though, like with the spicy butternut squash soup from a few weeks ago, for us, this is more flavourful than highly spiced – easy to add more for head-exploding spiciness though.
Quick spicy tomato & lentil soup
Yield: 6-8 decent size servings – a whole lot of soup!
Total cost: Using stuff from the store cupboard, but less than £2 overall
Ingredients:
1 onion – half finely diced, the other have a bit bigger
oil for frying
2 cloves of garlic (or equivalent puree)
3tsp cumin seeds
1 red pepper – finely diced (this is the only non-store cupboard item and is completely optional)
2 cans of chopped tomatoes
4tsp of tomato puree
2litres of hot vegetable stock
150g-200g of red lentils (depending on quite how thick you want it!), rinsed
Spices:
2tsp ground coriander
2tsp mixed herbs
half tsp dried chilli flakes (or 1tsp of chilli powder)
salt + pepper to taste
2 bay leaves

Method
1. Heat the oil in a large stock pot (ideally with a lid) then add all the onions. The hope is the little ones will goop down into the soup while the large ones provide the occasional chunk.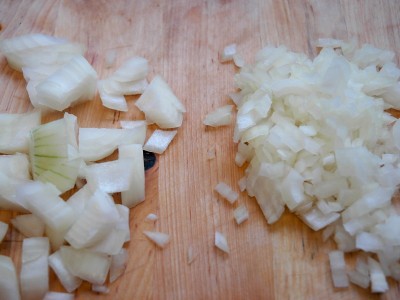 2. Add the garlic and cumin seeds. Stir together well then leave to cook for a few minutes – lid on. The onions should soften not brown.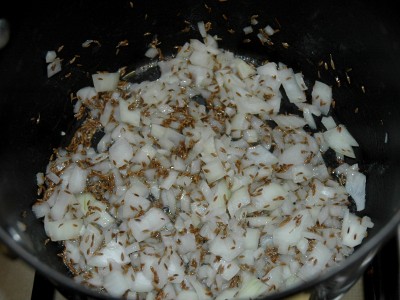 3. Add the red pepper (if you're using it) and repeat the stirring and couple of minutes of softening. Here's a pretty picture of the finely chopped red pepper – I know you know what finely chopped red pepper looks like but I like the crisp red :)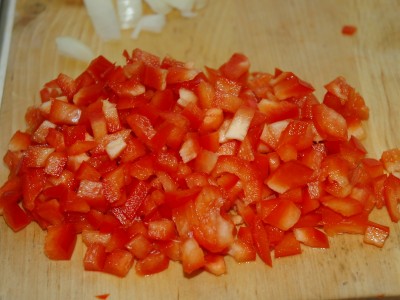 4. Add the tomatoes, the hot vegetable stock, the tomato puree (I usually "melt" it into the stock, to make sure it's well distributed throughout) and all the spices – except for the bay leaves. Bring to the boil and simmer for about 5 mins.
5. Another optional stage, for a smoother soup at the end – using a stick blender, blitz some of the bigger tomato chunks. I still like small chunks of veg in it though, so don't take it too smooth – just a little blitzing. This picture kinda shows the texture – not super smooth but not chunky.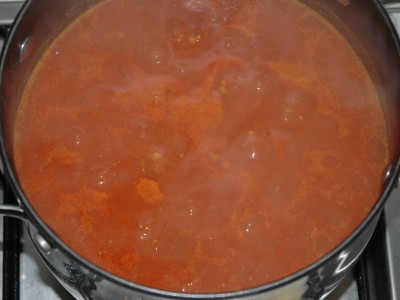 6. Add the bay leaves and the lentils. Stir then leave to simmer for about 15 mins – stir it occasionally as the lentils will keep sinking to the bottom. The soup is ready when the lentils are well cooked – soft but not mush. (This soup has got 200g of lentils in it – see all the lentils!)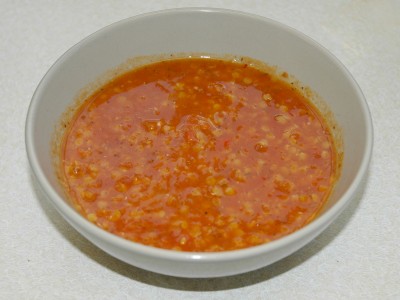 Eat with bread and a few slices of a good sharp cheese!
Leftovers: It lasts for a good few days in the fridge but if you won't get through it in that time, freeze it. The lentils mush a little more on defrosting & reheating but it's still good!
Have you made this? What did you think? I'd love to hear your thoughts!
Related posts: