Simple spicy smoked mackerel kedgeree recipe
We had some reduced-to-clear smoked mackerel in the freezer so I decided to make some kedgeree for a quick but tasty dinner on Monday evening.
It's a bit buttery, pretty spicy and quite, quite fishy – basically yum on a plate. And it's easy to make too.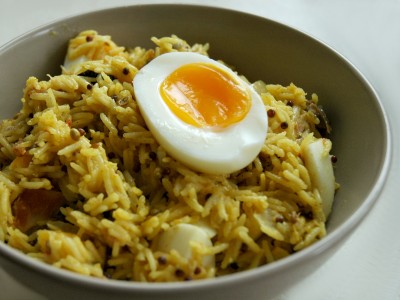 Easy spicy kedgeree recipe
Makes 3 large portions – and extra egg and a little more rice would easily make four medium size ones.
Takes about 15 minutes
Cost – about 80p per portion (although with our reduced-to-clear fish and homegrown eggs, ours was about 30p the other day – win!)
Ingredients
Two large knobs of butter (25g)
An onion
Garlic – a clove or equivalent puree
200g (basmati) rice
500ml of veg stock
200g (ish) smoked mackerel
2 (or 3) eggs – hard-boiled
Fresh coriander leaves to taste
Spices:
1 decent fresh red chilli or 1/2 tsp of dried chilli flakes
2tsp of curry powder
1tsp of cumin seeds
1tsp of whole coriander seeds
1tsp of yellow or brown mustard seeds

Method
1. Put the eggs onto boil, using your preferred hard-boil method.
2. In a large saucepan/stock pan, melt the butter in the pan and add the onion & garlic. Fry until the onion is soft then add the spices and fry together for a minute (add a little water if they stick). This should smell *great*.
3. Stir the rice into the onion & spices, and fry for a minute until the rice is well coated, then add about half of the stock. Simmer for about 10 minutes (or until the rice is just about ready), adding more veg stock as necessary. Avoid stirring it too much – just as much is needed to avoid it sticking to the bottom of the pan.
4. While the rice is cooking, remove the skin (and any obvious bones/sharp bits) from the smoked mackerel and flake it into bitesize pieces. Once the eggs are cooked, shell them and chop them into similar size pieces. Also, while you're at it, if you're adding coriander leaves, chop them up now so they're ready to drop in at the end.
5. Once the rice is just about cooked, toss the flaked mackerel, chopped egg and chopped coriander leaves into the pan and stir in so that it's well distributed. Lower the heat as low as it will go (or turn it off entirely if you're using a heavy bottomed pan that holds heat well) and place a lid on the pan, and let it stand for a minute or two — the trapped steam will finish cooking the rice and warm up the mackerel & egg.
6. Serve on its own or with some yummy crusty bread.
Optional veg
Add some peas at the tail end of the rice's cooking period. They'd look great – bright green against the yellow.
Leftovers
It doesn't freeze well but will happily sit in the fridge for a day or so. Reheat it in the microwave (2-3 minutes until the rice is piping hot) or in a pan.
If you want to freshen it up further, fry a little fresh onion, some cumin seeds and mustard seeds in a pan and stir it into your reheated kedgeree, then top with more chopped coriander leaves – then you'll get the fresh herbs and spices flavour alongside the more developed original stuff.
Have you made this? What did you think? I'd love to hear your thoughts!