Spicy stuffing with chorizo recipe
At the end of last week, we bought a chicken. We don't eat that much chicken really and when we do, we tend to get on-offer pieces so I've probably only roasted whole chickens a dozen times or so and they've been ok, good even, but not great.
This time I decided it was going to be great. I decided I was going to try one of those "stuff a lemon up it" recipes but when it came to it, I didn't actually have a lemon – and was too tired, post-dog icy walk, to go to the shop to get one.
So, I thought, what else can I STUFF in there instead? What do other people use to STUFF chickens? What sort of things do people use for STUFFING chickens? I think my brain was having a bit of a lazy Sunday afternoon because it took me ages to realise what I was asking.
There are loads of recipes out there for sage and onion stuffing – the good old failsafe – but as I said, I wanted it to be great so that wouldn't cut it. As may not be a surprise to the observant, we were going for a spicy rub for the chicken and I wanted a stuffing to complement that. This is what I came up with.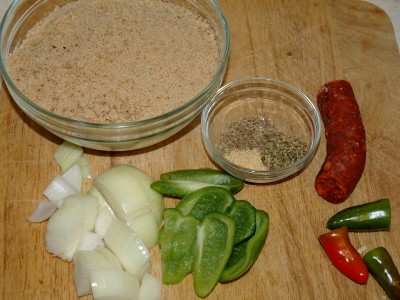 Chorizo and chicken go really well together. There isn't enough chorizo in it to overwhelm the meal but enough to give it a delicious, smokey taste. The pepper adds sweetness and the chilli, unsurprisingly, adds spicy heat.
John said it was the best stuffing he'd ever eaten. The chicken was pretty ace too – a longer marinading time would have added to the flavour but it tastes good and was wonderfully moist. Basically, WIN.



Spicy stuffing with chorizo recipe
Yield: Enough to stuff a large chicken or to make about 12 golf-ball-sized balls
Ingredients:
150g bread – stuff that's a few days old works best
50g cooking chorizo sausage
1 medium onion
1 pepper – I used green, red would be nicer
1 cloves of garlic
1 large egg, beaten
A little water (or chicken/veg stock, if you've got some on – only need a few tbsp worth)
Spices:
2tsp cumin seeds
1tsp mixed herbs
Chillis – I used three little fresh ones from the last of our summer harvest; normally I'd use dried chilli flakes, probably a large pinch of them.
Salt & pepper to season

1. Chop the bread into cubes then using a blender/mincer, grind into coarse breadcrumbs and place in a decent size mixing bowl.
2. Half the onion & pepper. Mince one half of them with the garlic and, if you're using fresh chillis, the fresh chillis. Finely chop the other halves – these will provide texture & bursts of flavour while the former provide moisture and a more uniform flavour throughout. Add all to the mixing bowl.
3. Add the herbs & spices to the mixing bowl.
4. Finely chop the chorizo and add that too.
5. And the egg! Then mix it all together. A wooden spoon should suffice for this – anything electrical would be overkill. Add the water or stock a little at a time until it's a cohesive mixture but not too sticky. To be all Goldilocks about it, it shouldn't be too wet – but equally not too dry. Try shaping it into a ball with your hands – if it sticks together without crumbling or gloopily sticking to your hands, then it's about right.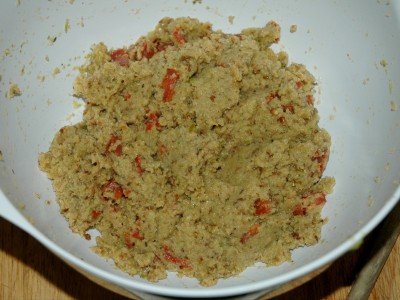 6. Stuff it in the bird in your favourite stuffing manner such as under the breast/breast skin or in the body cavity. Don't pack it too tight as it does expand a bit while cooking.
Alternately, they can be cooked on a greased baking tray – brush them with olive oil so they brown nicely then cook them alongside your chicken in the oven. My chicken was in at 190C/gas mark 5 and they took about 15 minutes.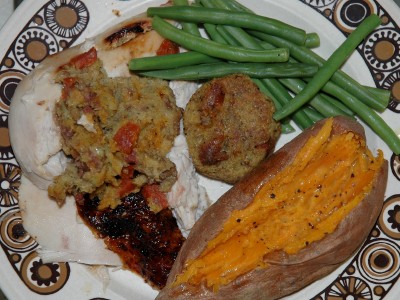 (If the meal looks a bit dry, please reassured that it wasn't. The following day we made a sweet, spicy gravy for use with the leftover chicken but it was too much of a bodge to mention it here – I'll figure out a better recipe for it then post it because yum!)
Alternatives: Since chorizo is pork, it would probably work just as well to stuff a pork loin/roast. Or to stuff a chicken breast before wrapping it in pancetta/bacon.
Have you made this? What did you think? I'd love to hear your thoughts!