Hurrah, in the midst all this fervent frugality and frozen frigidity, I've been reminded that summer – and growing – will come again.
Yesterday, as the snow was coming down pretty hard, the postman delivered an parcel of live plants which I ordered back in November – a baby lingonberry bush, a baby cranberry bush and 12 strawberry runners (not pictured).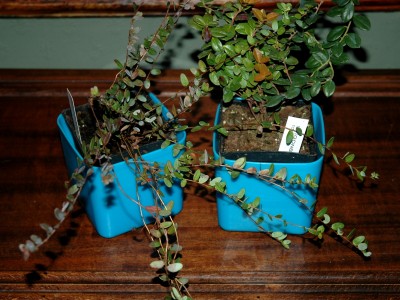 As I'm new to fruit and as it's pretty damn chilly out there, I post an "arggh! what do I do with them?" message on Twitter and on UKVegGardeners, and the wonderful Jan told me exactly how to look after (but not molly-coddle) the strawberries. Thanks so much Jan!
I have a bit more faith in the lingonberry and cranberry making it through the winter in one piece since they're both cold climate plants – I'm going to keep them in their current pots during this cold spell, and in the unheated sunporch rather than the greenhouse (it gets a little heat from the house but more importantly, it'll be easier for me to keep an eye on them) and plant them into bigger containers when it gets warm enough for me go into the garden without my teeth chattering. I'm expecting a dwarf cherry tree as part of the same order – I'm kinda hoping it doesn't arrive this side of Christmas now as that'll involve digging out a big old shrub thing — not going to happen in this weather!
As well as those arriving, on Wednesday, my also-ordered-weeks-ago oyster mushroom dowel spores. I'm very excited about these – I've spent the last year reading and learning a lot about finding and identifying wild mushrooms, but not finding a whole lot of edibles near here. These will allow me to cultivate some of our own – and hopefully further utilise the shaded far end of our garden. Although as it's currently being used as part log store/part bonfire-in-progress, I'm going to have to clearly mark my inseminated logs!
Speaking of which, I have to find some logs for inseminating – they need to be a hardwood, ideally oak, beech or birch, about 10-15cm in diameter and cut within the last six weeks or so. I'd hoped I could use sycamore as we have several thin-and-pointless sycamores that I could cull but apparently sycamore isn't advised. I think the neighbours have a silly, never-going-to-grow-up silver birch in the neglected bit of their garden so I might ask if I could have in return for the promise of mushrooms at a later date.
(In other food-from-the-garden related news, the chickens seem to have succumbed to the winter – we're only getting one or two a day from the four layers now, and the new girls still haven't offered up anything, not even a wonky shelled one, even though they're probably about 21 weeks old now. (They're noticeably bigger than when we go them.) I'm going to give the original girls a good fondle this weekend to make sure nothing is wrong with them physically – I don't think there is, just the lack of light. Hopefully they'll pick up again as the days start lengthening.)
Read More