Impromptu no spend week
I've decided to have an impromptu no-spend week this week. Well, actually, not a no-spend week – a no-spend fortnight-plus, until the end of the year.
No spending days/weeks/months are an often promoted technique by frugal/anti-consumerism people but I'd never really done it before. Many of my days are no spend days, I probably have no spend weeks more often than I think too – it's not something I've felt was an issue I needed to address. But recently, I've been buying a few too many (used) books online, or too many (second-hand) things off eBay and I realised I wanted a bit of a self-enforced time out.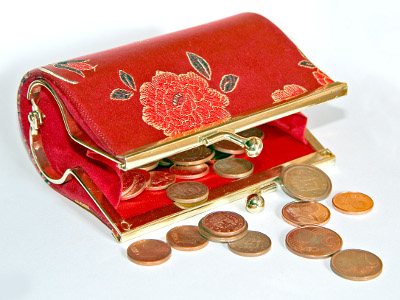 Since I'm really wanting to cut down on my frivolous spending not essentials, I'm giving myself five exceptions:
Food – I'd need to do a lot more planning to avoid spending any money on food for a fortnight (although, to be honest, John pays for most of our food anyway so it's not something I spend a lot of money on these days). I will try very hard though not to buy any take-out though or pick up a chocolate bar while I'm out and about – only buy food to be prepared at home.
Food/medical treatment for the animals if needed – definitely an essential not frivolous thing. Although no random ad-hoc treat buying for the cats or dog – they've got enough at home already.
Bills – I think I've paid all the automatic direct-debits for the month already but if any are still due from my bank account, they'll come out anyway.
Bus fares – necessary for getting about – not that I leave the house much really. Will probably be only a few day riders (at £3.30 a pop) depending on how much I have to go to Bingley for rehearsals over the next few weeks. No taxis home though – I'll wait for the next bus and/or make sure I get the last one.
A birthday present for someone because, as usual, I haven't been organised enough to buy it in advance and avoid having to face Leeds city centre on the run up to Christmas, ugh. I don't tend to buy birthday presents for people – just give presents at any time when I see something I think people will like/need – but this person is an exception.
My main worry is that I'll just rely on John to buy me things instead – take-out food or the Saturday newspaper – so I'll try hard not to do that.
My main temptation will be going to the city centre to buy that birthday present. I've not been there for months and probably won't be going again for a good long while, so the spendaholic devil on my shoulder will tell me to take the opportunity to look in the clothes shops for thick woollies I haven't been able to find elsewhere or check out what bargain wool is on offer this week in the market. I could use another warm woollie jumper but I don't need one, and I certainly don't need any more actual wool. I'm a sucker for non-repeating bargains. Resist! Resist!
The key thing I want to get from it isn't the desire to never buy anything every again, it's to make me conscious about when I do spend money.
Have you had a no-spend week/fortnight/month/year before? If so, got any tips to avoid temptation?