Things I spotted at the supermarket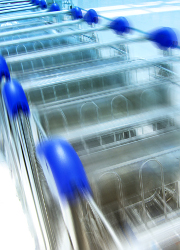 Yes, I know I'm having a no spend week/fortnight+ at the moment but one of my exceptions was food because it was an impromptu decision not to spend anything and I knew we'd be off to the supermarket this week for our once-monthly shop. If I'd planned the week more, we'd have gone last week but we didn't really want to leave it any later than this week because it'll be crazy busy next week and the week after.
So, anyway, during our visit to the supermarket last night, I spotted the following things:
1kg of their normal (not best or basic) own-brand carrots cost 98p. 1.5kg of own-brand carrots (same level) were £1. (My mum spotted this last week so I was looking out for it.)
1kg of own-brand sod-the-peasants demerara sugar was £1.55. 1kg of branded Fairtrade demerara sugar was £1.50.
Similarly, a 1kg jar of organic, fairtrade own-brand hot chocolate was nearly half the price of some non-organic, non-fairtrade branded stuff — that's a lot of money for just a name on the jar.
Some breakfast muffins were on the reduced for quick sale shelf – apparently 40p reduced to 39p. Super-saving! ;)
A few weeks ago, I got some discounted-for-quick-sale cat treats at Home Bargain for 29p and the cats (and dog) love them – they were basically strips of dried meat, not too much crap. John asked about buying more of them and we saw them at the supermarket yesterday – they cost £1.50 a pack, equal to £15.30 a kg. You could buy fresh steak for less than that! I think we'll make homemade dried treats for them as well as the dog…
We felt like we were being quite conservative – applying the "no spend" ethos to unessentials – but the bill ended up being more than normal. We did buy 5.5kg of flour, nearly a year's supply of stock cubes/bouillon (to supplement stuff we make at home – they were on offer and are something we always forget to … stock up on), £12 worth of sausages (mostly long-lasting chorizo for cooking & lunches and Polish kabanos), two months worth of decaff Earl Grey, and some household supplies we'd usually get elsewhere – but it was still strangely high. The shape of things to come? Sigh.