Plummy solid square crochet blanket
This is the second crochet blanket I've made in two months. Yes, I know it's June and gloriously sunny outside but what can I say? I live in the north of England and I'm realistic.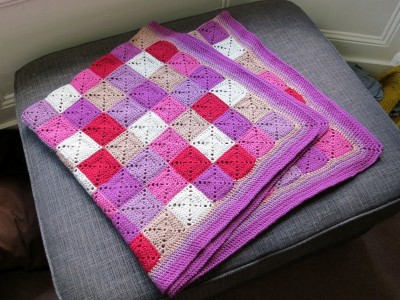 While I was finishing up my Ann Perkins blanket* at the end of April, I had a huge urge to make a solid square blanket: one colour per square like Heather's Elmer blanket.
I used Stylecraft Special DK – I don't usually like acrylic but this is alright. In the flesh, the colours are quite nice, it's not quite as shiny as most synthetics and it's super cheap. I used six colours: plum, grape, mocha, raspberry, parchment (nicely off white), and claret – the latter being my least favourite colour of the set, but I think it adds a nice contrast to all the purples.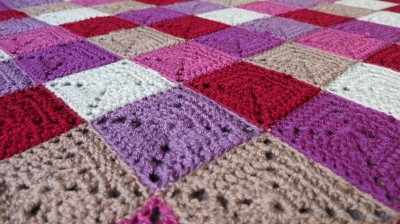 I made 196 squares (32 of each colour, plus a few extras). Making them was fun – easy enough to be pleasantly repetitive with a lot of feel-good completion points (end of round! end of square! ten squares of that colour! ten squares of each colour! *repeat 'til end*), and super portable so I hooked all over the place. Laying them out was super mega fun too. I wanted a "random" (ie, not at all random) layout, with no obvious patterns or gluts of colour – I very much enjoyed moving them around – I was disappointed when I worked it out so quickly ;)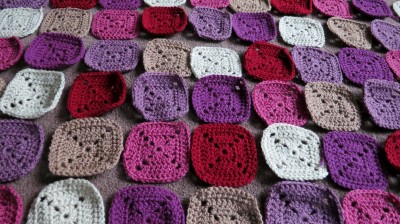 The joining together was a whole lot less fun though. I don't mind whip stitching squares, and certainly prefer it to the heavy ridges you get with joining them with crochet (especially since I'd flipped each square between rounds, so there was no obvious right/wrong side), but it took aaaaaaaaaaaaaaaages. I also discovered I'd been less-than-diligent about tucking in my ends when I finished my squares so I had to do a lot of neatening up (and still clearly didn't catch them all). Compared to that fiddly stuff, crocheting the border was lots of fun again – though I'm not sure about the mocha round and realised on my second grape round that I'd messed up the corners by trying to be clever (but I couldn't be bothered frogging them).
Another little grrrrr is I couldn't be bothered blocking all the little squares – I thought that they would be pulled enough into a squarer shape when I joined them all together. That was pretty much true of the internal squares but the ones of the edges have remained rounded on their outer edge.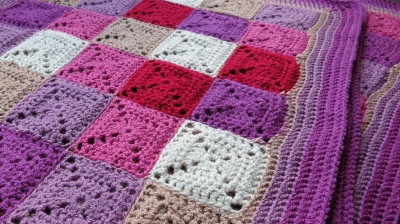 I've run a bit of steam over it to relax the borders but right now, it's too warm to be hunched over the iron blocking each little square. Maybe I'll do it a some point but I suspect, more likely, I'll just leave it, since it's a blanket made to be used and I doubt I'll block it after every time it goes through the wash. Which will be a lot because: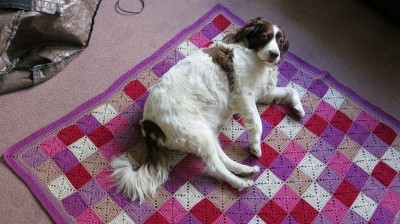 Hi Lily.
(She and the cats have been test-driving it throughout the making process, hence there being animal fur in the close up pics!)
(Lily doesn't like having her photo taken and quickly scampered to the Land of Other Crochet Blankets to frown at me and the camera: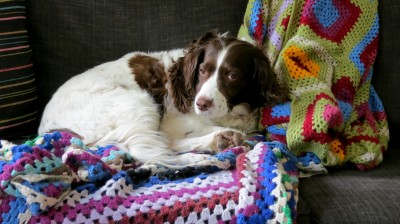 Border corner and blocking issues aside, I'm happy with it. Our living room uses these types of colours for its accents so it looks really nice in there. It does not coordinate quite so well with my green toe nail varnish.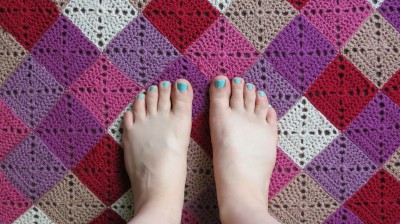 But who cares about that, when wheeeeeeeeeeeeeeeeeee! :)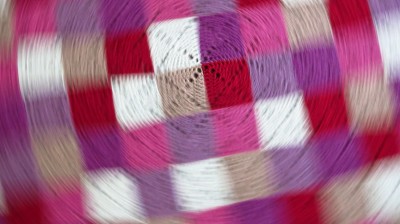 Started 28th April 2013; Finished 31st May 2013
Final size: 128cm (50inches) square, ish. A good, generous single person size or for two snuggly people.
Final weight: 760g
Approx cost of yarn: £12.08 (Stylecraft Special DK was £1.59/100g when I bought it)
* I haven't written about it yet as I've not been able to take any good pictures of it but in brief, it's a massive granny square afghan blanket: a colour/pattern copy of the one at Ann Perkins' house in Parks and Recreation. Parks and Rec (after season 1) is fantastic: I heartily recommend it!