Taking stock – June 2014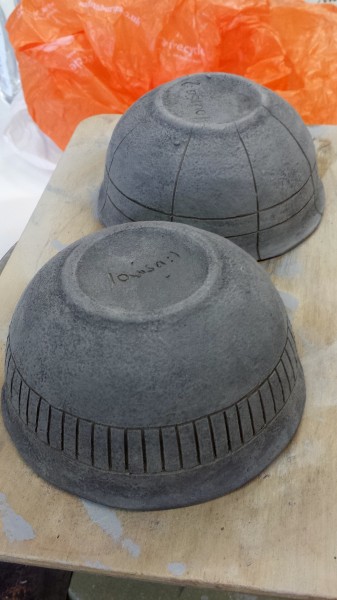 Like last time I did one of these, I'm totally copying from SwirlyArts ;)
What I'm…
Making: a crochet blanket very much like this one; a stitched memory map of the dog walks we take around our local woods; and amongst other things at pottery, a pair of ceramic wall planters (because my plastic one fell about 12ft and broke) and a series of carved terracotta pots.
Growing: not much veg wise this year – just courgettes, runner beans, green beans and cucumbers so far (I did have some lettuces but between slugs and a cat-related mishap, I doubt we'll see many of them) – but our perennial fruit plants/shrubs/trees look to be doing well. (We added new plum and cherry trees to the garden over the winter – we won't get any fruit from them this year but they'll be adding to the harvest next year). I've kept to my long-ago decision to fill nearly all the beds with perennials so the garden is still well stocked and productive even if I can't be bothered doing m/any annuals – I've added more flowers than I thought I would but this plan seems to be working out. Also, excitingly, I'm apparently at the top of the allotment waiting lists – it only took four and a half years! – so I think I'll be grateful for a slightly lower maintenance garden when that finally comes through!
Cooking: Nothing at the moment … for dinner though, I want something packed with pulses and veggies – maybe a daal.
Drinking: Orange and mango squash
Reading: "The Marriage Plot" by Jeffrey Eugenides, and re-reading "Pawnee: The Greatest Town in America" (the Parks & Rec tie-in book)
Wanting: my camera battery to recharge: I got all set up — lighting, fabric backdrop etc — for taking some nice pictures of the things I've made in the last 18 months and the battery died after one picture!
Looking: out of the window, at the trees that need to be cut back – if the holly bush was trimmed, I could see down the hill into the woods, which is currently dabbled in sunlight and rather pretty. Wish I could see that rather than something that reminds me of a prickly chore that needs doing!

Playing: a lot! I'm very grateful that I have so much time to play at pottery, and doing other things too. I've been stretching myself out of my comfort zone – just a little bit at a time – and while I like my zone and will stay there, my little excursions have taught me some new techniques.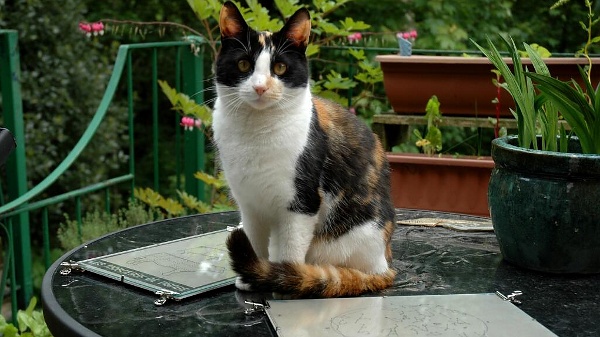 (Strange helping me with some cyanotypes the other day.)
Deciding: very little.
Wishing: I could get motivated [copied right from Lynsey ;) ]
Pondering: Like Lynsey, I'm pondering what direction my business should take next. I have several ideas that could be interesting, but no particular "that's it!" idea and no motivation. Sigh.
Enjoying: life. I'm still not quite enjoying the moment as much as I could be, but I'm enjoying the day-to-day a lot more than I have done in a while.
Waiting: impatiently, for my "throwing" course at the end of the month (using the pottery wheel rather than building things by hand)
Liking: not having to wear socks every day.
Wondering: whether I should write off taking photos for today and play in the garden instead…
Watching: Strange-cat padding down the outside steps .. and oh, coming into the office; oh wait, she's gone outside again. TLDR: a cat being a cat.
Hoping: Lily-dog is ok – she's just crawled under my desk to sit on my feet. She's been a little antsy over the last couple of days (possibly because I was out of the house yesterday and John is out of the house today – she likes her pack to be together). She's about 13 and a half now, and has definitely become an old lady dog in the last year. (I notice that my "hope" was similar last time I did this – she was very anxious last summer but thankfully is generally much better now. We occasionally have to get up with her in the night but it's nearly always just for a toilet run then back to bed.)
Marvelling: at how well our animals get along.
Smelling: occasional whiffs of sardines because I had some for my lunch and spilled a dribble of oil onto my foot (as you do). And, when the outside door is shut, chemically odours from the new rug we have in the office (we got it for Lily, so she doesn't slip on the wooden floor – it's the first non-natural fibres rug/carpet we've bought in a long time and boy, can I tell!).
Hearing: two lines that stick out in this song I'm listening to: "today we're younger than we're ever going to be" and "I must have left a thousand times; but there's a small town in my mind; how can I leave without hurting everyone that made me?" (Since John's out, I'm listening to a lot of music that I like more than he does: right now, it's Regina Spektor, earlier it was Fiona Apple, Ben Folds, Bat for Lashes and Beth Houghton). Also, the breeze in the trees and bird song.
Wearing: a t-shirt covered in fur, from a combination of our animals and the cat from next-door-but-one
Noticing: that my Three Beautiful Thing-ing has become a habit: after doing it patchily over the last few years, I've been writing them every day since the start of this year and now it feels strange if it gets to the evening and I haven't noticed anything. It would be too meta to note this as a beautiful thing though! :)
Knowing: or at least hoping that I'm travelling in the right direction, mentally. I feel like I've had a few break-throughs recently.
Thinking: about how being a generalist is a lot of fun, but that it gets harder as you get older because people who have specialised are just so damn good now.
Feeling: strangely detached from some things. I think I've done that thing where you wake up after a period of depression/disengagement and are surprised to see the world has changed in your absence.
Admiring: good, economical writing. Interesting direction in TV shows.
Sorting: out my little craft store area and our spare room – the latter has been a dumping ground since we moved in here, nearly five years ago. Over the last few weeks, I've sorted out all the misc balls of yarn and bits of fabric (scraps and yardage) I've collected over the years, to remind myself what I have and made it easier to find. I've also gone through a lot of my old papers and whatnot – a lot of things have been boxed up for the charity shop, and a lot of rubbish has gone in the bin/recycling.
Buying: … I lamented the other day that I had managed to spend £110 in one afternoon – I'd bought dog food, cat food, skin cleanser and athlete's foot cream. What a boring way to spend over £100!
Getting: thirsty. I finished my squash and those sardines were salty! Also, getting better at various crafty things – my ceramics work and my stitching have improved dramatically in the last few months. Still a long way to go but it's nice to see that dedication to basic skills is paying off.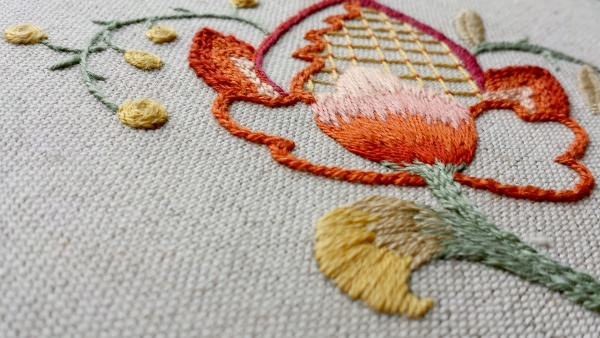 Disliking: the swing to the right, to bitter selfishness, in the recent elections.
Bookmarking: lots of beautiful pots, bowls and vases, altered after being made on the wheel – one day, one day!
Giggling: at reaction videos to this week's Game of Thrones.
Wishing: my John-John was here. We'd be giggling at something stupid if he was. I'm so glad he works from home most days!
Feeling: sleepy for no good reason: I slept just fine last night but still I'm a bit sleepy.
Trying: to always look for the positive in a situation. My brain can find the negative without thinking about it so I'm actively trying to go the other way to counteract it.
Needing: a haircut – I have done for about six months – but I seem unable to make it happen. I also need to stop procrastinating and get on with either taking pictures or working in the garden; and then, later, take Lily for a walk.
… I think that means I should leave this here!
How are you all doing?