Taking Stock – May 2015
*cough*
*taps mic*
"Is this thing on?"
Ahem.
(Hope you're all fine and dandy.)
—-
I've been spending a lot of time at the allotment recently and to make myself feel better about its still somewhat weedy paths, I wanted to look up the "before" pictures – from before I started reclaiming the plot last summer. Wow, I have come far! Still a long way to go and everything but cor, go me! ;)
While I was here, I noticed a Taking Stock post from just about a year ago and was surprised how much is the same! I thought I'd update that as a catch-up!
What I'm…
Growing: oh so much! My greenhouse has been full of seedlings for ages, but it's only been this week or so that I've been happy to start planting things out. About 40 sugar snap pea plants went into the ground on Tuesday at the plot, along with a handful of runner beans & a couple of courgettes at home.
At home, I'm pretty much restricted to container growing for annual veg so it's a lovely novelty to have beds. In typical fashion, I had to wait nearly five years on the waiting list to get my first plot – and then was offered a second* about four months later! (* We're only allowed one plot each so the new one is officially John's). The second plot is on the same site and is also a small one, so I've just over a full plot all together – maybe a plot and a third. The second plot has lovely big beds, with better soil, and lots of well established fruit – rhubarb as well as the usual berries & currants. I hadn't planned to grow any broad beans this year but the soil was so welcoming when I went to turn it over last October that I had to plant a load – and how they've grown. This picture shows them against the spring sown addition.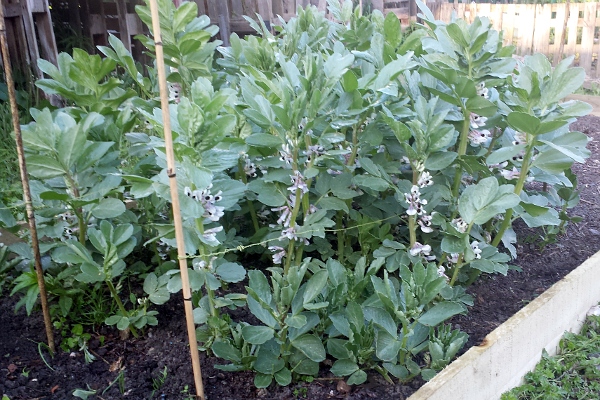 All my broad beans have been spindly in the past so I planted them close together – regretting that now!
I also overwintered onions and garlic, and sowed some early round lettuces which are nearly ready to harvest.
It'd take too long (and would be boring) to list everything I've got growing in the greenhouse ready to go to the plot – but if we get a mediocre crop from half of it, we'll be very happy and swimming in veggies!
Cooking: Fancy dancy meals! Our lovely neighbours have been trying one of those not-at-all-frugal delivery services which send you exactly what you need for, say, three meals for two people – I think they're aimed at people relatively new to cooking (though that doesn't really describe our neighbours), to show people how easy fancy food can be. Anyway, due to a timing mishap, our neighbours had a box they couldn't use so they gave it to us – we never say no to free food! We have most of the ingredients in the house already but it's been fun putting them together in slightly different ways.
Away from that, I think I might have to make up a big vat of "Polish sausage and dead veg soup" at the weekend – a delicious way to clear out the fridge ahead of a shop :)
Learning: I've continued taking ceramics classes at a local pottery studio. I've been focused on decorative clay techniques this year – taking courses on a full range of techniques, then another course specialising on glazing and most recently, I've been learning about Coloured Clay and associated skills like inlaying and laminating. You never stop learning with ceramics!
Also, over the last few weeks, I've also been pressing ahead with a bit of language learning. I discovered Duolingo in the depths of winter and got stuck into learning German and refreshing my long neglected schoolgirl French. That went by the by as spring and other fun hobbies kicked in, but I've been pressing on of late – though focusing on the French more now. French at school was mostly focused on vocab and simple grammar – Duolingo is somewhat the reverse, focusing on sentence building, which I find more useful and I find the independent learning/gamification a lot more acceptable than the rote learning/being picked on to answer in class.
Making: Pottery aside, in typical Louisa fashion, I'm about 80% of the way through a few projects. Last month, I crocheted all the granny squares for a blanket and have whip stitched about half of them together – I need to finish the joining and edge them. Sticking with crochet, I've another ripple stripe blanket that has been sitting at about 80% since New Year – I'm procrastinating because it's a variegated yarn and I can't decide if/how to edge it. I also need to finish the last few leaves on a Jacobean crewel embroidery project.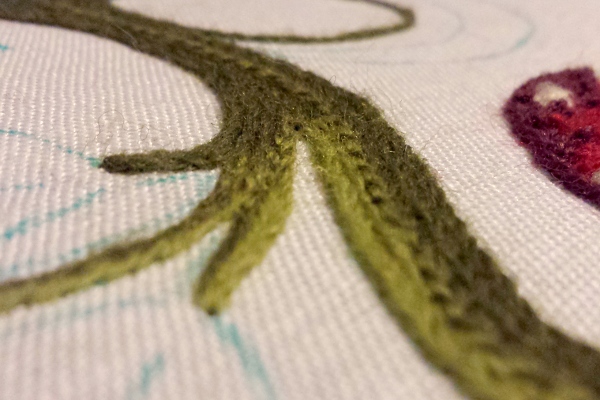 Wanting: it to be a bit warmer and sunnier (just a little) – I've got washing on the line and the grey clouds aren't inspiring me to head out to the plot for a cheeky session this evening.
Looking: at all the seed packets around my desk. Everything was super organised at the start of the year and is now .. not so organised.
Playing: after a bit of a retro game fest playing Settlers 2 (the non-3d version) and then a brief spell running perfect progressive utopias on Democracy 3, I've actually been trying to spend my gaming energy on slightly more productive things – Duolingo if I'm awake or BaBaDum (a language vocab game) if I'm tired.
Deciding: very little. Same as last year.
Wishing: I could get motivated. Same as last year! One could argue I'm motivated enough to work at the allotment but I think that it's at least in part a displacement activity – I'm spending time down there or in the garden because I can't get motivated to do anything else.
Pondering: Exactly the same as last year: "I'm pondering what direction my business should take next. I have several ideas that could be interesting, but no particular "that's it!" idea and no motivation. Sigh." — this lack of progress from last year is rather disheartening!
Reading: I've recently subscribed to History Extra magazine – my first ever magazine subscription (well, my first since Smash Hits as a young teenager! ;) ) so I've been reading that. Also on my bedside table – though slightly neglected – is 'Mauve' about the early colour chemist William Henry Perkin and 'Quiet' by Susan Cain, which is interesting but something about the writing style annoys me so I'm not exactly racing through it.
Hearing: The wind in the trees and Lily-dog huffing & as she settles into her afternoon nap after her walk.
Oh, now John's started singing and playing guitar upstairs while he waits for his tea to brew. He finally got his long awaited accordion about six weeks ago, so I've been hearing a lot of oompah tunes lately too (everything can be oompah-ified!).
Waiting: for a delivery fr– oh! it arrived mid-sentence – what good timing! It was just some long garden canes I'd order Wilkinsons (as part of a larger order that arrived yesterday). They'll be runner bean poles before the day is out if the weather holds!
I'm also waiting a couple more weeks before we can get another two or three chickens – we've lost a few ladies to age and illness over the last few months so are down to three at the moment. If we wait until the middle of June for Point of Lay hens, they'll have been spring chicks: they're supposed to be healthier than winter chicks and also are less likely to moult this winter. I'm going to try to give the coop & run a bit of an overhaul before then.
Wondering: if we'll squeeze in another weekend away before the start of the summer holidays. We've had two wonderful weekends away this spring – gorgeous places and freakishly great weather – and I wouldn't mind another short break before summer if we can. We'll see.
Watching: last year I wrote about Strange being a cat for this one but I'm going to take the screen-related approach this year. We're rewatching random old episodes of "Futurama". Last week, we watched a three part BBC documentary (available on YouTube) called "Men of Rock" about the history of geology as a science – fascinating and gorgeous! A few weeks ago we watched "Unbreakable Kimmy Schmidt" – I adore 30 Rock, and this is 30 Rock-ish but not quite as good. And it's Game of Thrones season, so we're watching that too.
Listening: The audio equivalent to that. I actually Tweeted about this yesterday – I'm listening to a lot of radio series/podcasts at the moment – when I'm at the allotment/in the garden, or walking the dog, or doing quiet chores around the house etc. Aside from This American Life, they're mostly science or history (or thereabouts) related. I'm listening to various BBC shows – In Our Time, Thinking Allowed, Discovery, Food Chain, History Hour – and related, History Extra. I'm also listening to independent shows including the British History Podcast, Philosophy Bites, and the Mother Jones' podcast, Inquiring Minds. I'm happy weeding for hours as long as someone is whispering in my ear about something interesting :)
Hoping: all my work at the allotment will be worth it and we see a good crop of veg this summer. I know I'm being a bit hopeful with some of my greenhouse crops (aubergine, chillis, sweet peppers etc) but hopefully we'll get enough squash, legumes and salad crops to offset that disappointment.
Marveling: At the progress of the lupin flowering in the front garden – it grows more interesting and beautiful every day.
Smelling: a sour smell that's always left behind after we vacuum. We've changed the bag and filter this morning so hopefully this will be the last time I smell it!
Wearing: A hoody now – my want for it to be a bit warmer hasn't happened yet!
Noticing: How brown my hands are. They seem to have caught the sun more than the rest of me – either that or they're consistently dirty at the moment (very possible!)
Getting: gee-ed up to warp up my loom. (I got a rigid heddle loom in February after I realised that my fine homespun yarn, which is usually awkward for crochet, would be lovely woven. I'm slowly leveling up my skills on it – sticking to plain weave designs for the time being and experimenting with colour instead. It's fun but is a lot more involved, particularly early in a project, than say crochet. I don't mind that warping up is time consuming but it can quickly go wrong which is frustrating.) I have a big project in mind – a stash-busting blanket made up of assorted yarns in a "random" sequence, and woven in three separate strips – a lot of planning and effort will be needed upfront and it feels like it's potential to go wrong is massive!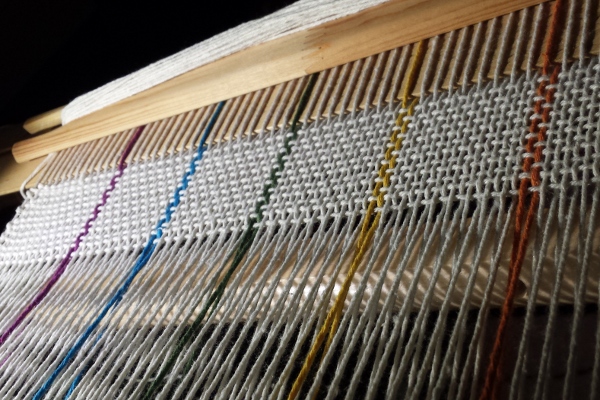 Disliking: "the swing to the right, to bitter greedy selfishness, in the recent elections." I wrote that last year and it's been even worse this year, of course. It wasn't unexpected but still, I was in shock for about two days afterwards.
Admiring: Ireland after the same sex marriage referendum. I agree with those saying that minority rights should be exactly that – rights – and not something left to public vote but still, it was heartening to see the strength of the Yes vote.
Feeling: I'm making progress, generally, you know? But at the same time, I feel like I'm stagnating on a lot of things so … *shrugs*
Thinking: about the woods behind our house. They've had such an interesting history.
Buying: Unsurprisingly, much of my recent spending has been garden related – odds and sods (like the garden canes) for the allotment and I bought myself a shiny new fork after I realised that I was probably working a lot harder than I needed to, using the bent-pronged fork I got in a "3 for £10" deal ten years ago.
Giggling: over cute cats as always. Last night, just before bed, we were winding up Strange, trying to get her to attack our feet and you could see she was torn: "I know what you're doing, trying to annoy me with your toe-prodding but wheeeee! I want to play!!"
Wishing: I was less socially inept and more socially confident (similar but not quite the same). It's been causing some problems lately, sometimes in relation to expressing myself and sometimes in relation to coping with … challenging people.
Feeling: sleepy. We had to get up this morning to take Lily-dog to the vets (she's got a cough – probably just a bit of an infection, nothing that looks serious at this stage anyway. She's still doing ever so well considering she's 14 now!). It wasn't too early but I had to get up earlier than I would have done otherwise!
Trying: "to always look for the positive in a situation." I wrote that last year as well and I am very much still trying to do this. I'm still writing "Three Beautiful Things" entries every day.
Needing: "a haircut – I have done for about six months – but I seem unable to make it happen." Haha, another from last year that is still very apt – I finally had it cut about a month after I wrote that — so eleven months ago now!
Planning: Our time for the weekend – there are some trellises that need to go up in the garden (to hide an ugly wall and to support raspberry & currant bushes) and some more beds at the allotment need re-edging — I'd like both of those done ASAP as they're blocking some planting out. I also have to strip and re-paint the garden bench and table, and John has to re-fit a couple of lights. I wonder if there will be enough sunshine for all this!
Anyway, how are you all doing?