Baking bread in the winter – how do you do it?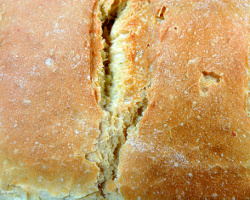 We've got out of the swing of baking bread recently – partly due to general winter lethargy and partly due to the fact that we'd struggle to get yeast do its thing.
It would be very difficult to grow a slow rise bread – one that needs a good 12-18 hours to rise. With our woodburners in the office & living room, we get a room temperature of 16-18C (60-65F) for a few hours during the day but for the rest of the time, it is much lower than that. The kitchen is poorly insulated (it's an addition away from the main body of the house with lots of windows and a hard-to-insulate flat roof) so has frequently been see-your-breath chilly (especially last week when the central heating was out and it was even colder than normal). Opinions differ on the ideal temperature for yeast activity but it's typically seen as 25-35C (75-95C) – we don't even come close to that. (Admittedly we rarely come close to that even at the height of summer but it's warmer, and more consistently warmer, than it is now.)
I'm loathed to use the (electric) oven as a warming box – not only would it be using energy, it would need a lot of management – turning it on and off – since the temperature setting doesn't go anywhere near low enough for the oven thermostat to manage it. And 12-18 hours of that sort of management isn't realistic.
Lethargy aside, we would like to get back into baking bread ASAP – it would save a lot of frozen-faced walks to the shop and, of course, shops are going to be closed over the next couple of weekends anyway/out of stock because of snow issues.
We could possibly manage some shorter rise time breads when a woodburning is running – leaving them for longer to account for it still being a bit cool – or even, if I had to do it, in the oven. That's not out of the question, I'm just a sucker for slow rise bread: I haven't perfected a non-slow rise loaf recipe yet and I suspect now might not be the time to work on one!
Are you still baking bread at the moment? How are you managing? Have you got any suggestions for things I could try? Or got a fool proof pretty-quick-rising loaf recipe?