Six things I learnt while making marmalade yesterday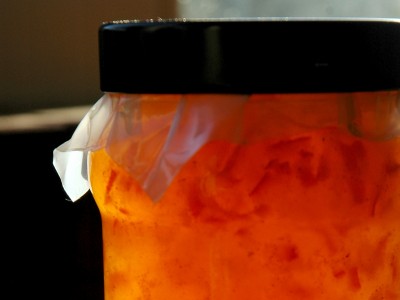 1. Squeezing multiple oranges and lemons after a couple of days of sewing & gardening is a mistake
I spent a couple of hours yesterday morning cutting back scratchy shrubs (including working underneath a holly bush) and I spent Thursday & Friday evening sewing (aka stabbing myself in the fingers with needles). I also have a tendency to bite the skin around my nails.
OH MY OW.
(Although admittedly after searing pain for a few minutes, it stopped hurting quite so much. They did keep tingling overnight though and even now are more painfully than little cuts or scratches should be.)
2. It's easier to finely slice rind if it's rind up, pith down than vice versa
I started with the rind to the chopping board but made much better progress when it was the other way around.

3. No matter how finely I slice it, it won't be fine enough
I thought I'd done a good job with the slicing – I guess I thought it would shrink a bit during cooking or something – but after the peel was softened, it was clear that it was a lot bigger than I'd like so I ended up having so scoop it all out again with a slotted spoon and chopped it into much smaller pieces. Yawn.
4. Marmalade boils more frantically than other preserves
Or maybe that's just me.
Our friend Paul made marmalade earlier in the week and described the entire ground floor of his house being "covered in a thin film of marmalade". I now know exactly how he feels.
After I added the sugar, it was either not boiling hard enough or on the scary verge of boiling over/actually boiling over. It took a lot more management than all the other jams I've made. And I ended up a lot sticker.
5. I don't like making marmalade
Between the pain and the stickiness, it wasn't a fun experience – the first time while making a jam or preserve where I've been frustrated.
While the peel, juice & muslin bag were bubbling away, I made some lemon curd – admittedly 10 mins of agony to start with but then after another 10 mins, it was all done and I had some fantastic, not sticky lemon curd in jars (recipe to follow) — and that made the marmalade seem even more of a ballache. I've got some oranges left over and I'm going to make them into an orange curd instead of more marmalade.
6. I'm not sure I even like eating marmalade
During the frantic, messy boiling stage, it occurred to me that I probably hadn't had orange marmalade in 20 years, and there was probably a reason for that. I didn't like the lingering bitter taste – but John assures me that's what marmalade tastes and it's quote-unquote "probably the best marmalade I've ever tasted" (he's good with complements in the kitchen). He had three pieces of toast for dessert after dinner last night: two topped with the lemon curd, then another with the marmalade on after it cooled.
I added ground ginger and cinnamon at the boiling stage then 100g of very finely chopped crystallised ginger when it was a couple of minutes off setting point. Neither the ginger or cinnamon is an overwhelming taste but they add a bit more warmth and rounding to the marmalade – and I think the cinnamon helped with the colour of the final product too. If I made it again, I'd think more carefully about the crystallised ginger – cut it even finer and leave the jam to set more in the pan before scooping it into jars as a lot of the ginger chunks are now at the bottom of the jars.
Now to make some soda bread to soak up all these preserves!