Quick bread: no-rising-time soda bread recipe
The other week, I asked about how people manage with baking when the weather is cooler – when it's hard to maintain a yeast-friendly heat for bread to rise (especially if you're going for a 12-18hr slow rise bread).
In the comments, Karen M said:
In my rural living days without electricity or central heating, we ate a lot of bannock and other unleavened breads in the cold times.
A smack-the-forehead moment for me. Unleavened bread, of course!
I hadn't heard of bannock but John loves its Irish cousin, soda bread so I decided to give that a go. After trying his first slice of my first soda bread, John declared we're never buying shop-bought bread again. We will, of course, but I liked his sentiment ;) I've made it a few times now and it's been a hit each time.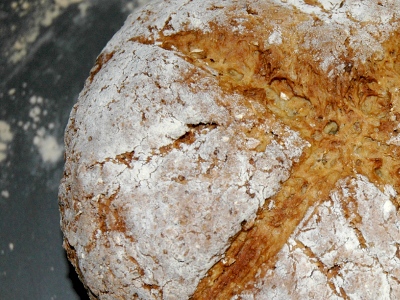 Soda bread is super quick to make. Most bread relies on yeast "breathing" to create carbon dioxide bubbles but soda bread uses the chemical reaction between the alkaline bicarbonate of soda and something acidic (like vinegar, lemon juice or cream of tartar) to make the gas instead. It's an instant reaction rather than something that has to build up over time – so no need for rising time or proving time.
Want an easy bread without soda?
Our slow rise no knead bread only takes 5 minutes to make – then just leave it overnight before baking.
And extending kneading is a no-no too – the reaction works best if it's happening in a warm environment so it needs to be mixed, shaped and bam! straight into the oven. Super fast.
It's a dense bread – no big yeasty air bubbles like in good yeast-based bread – but the sponge is soft and a touch sweet. Possibly because of the slight sweet milkiness or possibly because of the texture, there is something scone-like about it for me – but it's considerably lower fat than actual scones.
Like scones though, it's fantastic with butter and jam. Or dipped in a hearty soup.
Quick Soda Bread recipe
Yield: One slightly-more-than-1lb loaf
Time: Less than 5 mins preparation, no rising time, 30-40mins in the oven.
1lb of flour – I use a malthouse type mix with malted flakes & rye flour as well as wheat flour.
1tsp of sugar
1tsp of salt
1tsp of bicarbonate of soda
250ml (ish) of soured/acidified milk*

(* Traditional recipes call for buttermilk but soured or acidified milk serves the same purpose and is easier/cheaper to obtain – add 1tbsp of vinegar or lemon juice to the 250ml of normal milk and leave to stand for about 10mins.)
1. Preheated the oven to 200C. Dust a cookie sheet with a little spare flour (can be just plain white flour).
2. Prepare the milk by adding the lemon juice/vinegar and leaving to stand for 10 mins. (If you're using buttermilk, lift it out of the fridge to let it warm up a little to increase the acidity.)
3. In a mixing bowl, prepare the dry ingredients – the flour, sugar, salt & bicarb of soda. Mix it together well.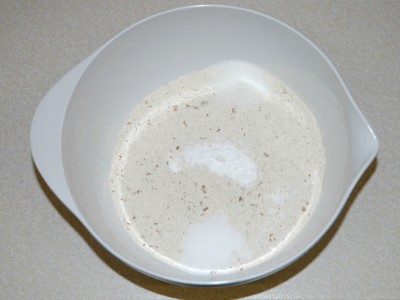 4. Make a well in the middle of dry ingredients and add the soured milk/buttermilk. Quickly mix to form a soft dough.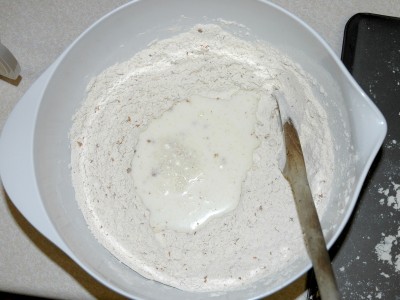 5. Knead for 15-30 seconds then shape into a flat ish circle about 15cm/6ins in diameter and 4cm/2ins in height. Place on the dusted cookie sheet then turn it over so both sides get a light coating of dry flour. You may notice I'm not exactly light handed when it comes to dusting – use a bit less than this.
6. Using a sharp knife, cut a cross into the top of the round – only 5mm (1/4 of an inch) deep and wiggle your knife from side to side to open it up a bit (it'll "bloom" properly while baking but that helps).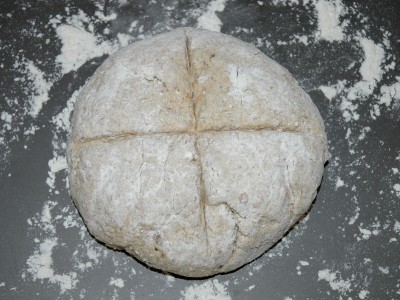 7. Immediately place in the preheated oven for 30-40 mins. It's done when it's a deep golden brown and (like all bread) sounds hollow when tapped on the bottom.
8. For a tough, crispy crust, stand on a wire cooling rack. For a softer crust, leave it on the baking tray and cover with a heavy teatowel to keep all the moisture close in.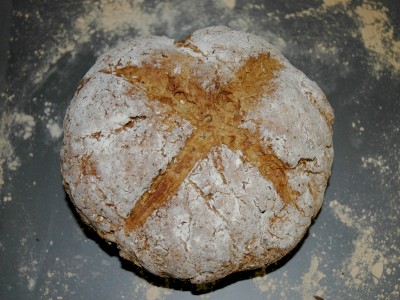 As I said, it's really good with butter and jam. Unlike the slow rise bread, it doesn't last for days and days – so you have the perfect excuse to eat it as fast as you can!
If you make this, please let me know what you think!