Saving seeds from courgettes/marrows
As I mentioned in passing in my last post, we're in the middle of a courgette-glut. Unfortunately the glut started in the second busiest week of my year (the summer showcase at drama – meaning I work about 60hrs instead of the usual 35hrs) so the courgettes didn't get picked on time – and they stayed on the vine growing into marrows. I'd intended to let some of the fruits grow to marrow size anyway to collect seeds for next year so it wasn't the end of the world.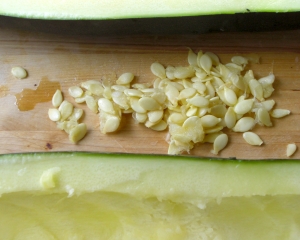 I harvested one of the marrows yesterday – it weighed in at 1.8kg (just under 4lbs). I managed to slice a good number of the seeds in half while cutting it open (doh!) but still got 30 or 40 good size seeds from it. I've not saved the seeds from marrows before so I'm not sure whether or not it'll be a success – the ones I've kept look fully formed and are the roughly the same size as the ones I bought this year (there were a lot of smaller ones which I discarded), but only time will tell if they'll germinate.
When saving seeds, you're supposed to leave the fruit on the plant for as long as possible to allow the seed to fully develop. Over ripe but not rotten is the usual guideline. This marrow was probably just edging toward over-ripe from ripe – still edible but the skin was tough (it's over-ripe if you can't push your thumbnail easily into the skin).
Anyway, I'll see how these seeds dry and will try growing them next year – it feels like there is little to lose. I'll let another couple of fruits stay on the plant longer to see what the difference is.
(Surprisingly/frustratingly, the chickens don't seem to like courgette/marrow – a shame because there is a lot of it to go around!)