Using up the glut: Marrow cake recipe
In my previous post about saving marrow/courgette seeds, I mentioned that the marrow I had was just going from ripe to overripe. I had no particular plans to eat the marrow – we like courgettes a lot but thought, since the variety was billed as a courgette, it would be tasteless as a marrow. I was happy just using it as a seed nursery – but when I'd stripped out the seeds, it seemed a waste to throw it in the compost. If the chickens liked courgettes/marrows, I'd have given it to them but they're strangely fussy birds so I was left with pounds and pounds of edible flesh.
I test fried a slice and judged it to be alright – not as flavourful as its younger siblings but certainly not bad. Tough skin though – edible but tough, so that had to go. I used half of it to make a cheesy-bacony comfort food bake thing (a variation on this recipe from the Indy but with mixed cheese – parmesan and jarlsberg – because that's all we had in and also goats cheese makes me gip) – I had some on its own last night and we'll have the rest tonight with pork chops in a tomatoey sauce. The other half, I used to make a marrow/courgette cake.
Marrow cake/courgette cake recipe
Ingredients
1 large egg (I used 2 medium ones since our girls aren't laying truly large yet)
200g of caster sugar
100g of melted butter
1/2 tsp of vanilla extract
300g of courgette/marrow, coarse grated
300g of self-raising flour
75g of finely chopped nuts
1tsp of cinnamon
1tsp of baking powder
Recipe
1. Grease a 2lb loaf tin better than I did, and pre-heat the oven to 180C/gas mark 4.
2. In one bowl, mix together all the first lot of ingredients (the wet ones – eggs, butter, courgettes & vanilla, plus the sugar) and in another bigger bowl, mix together the second lot of ingredients (the dry ones – flour, nuts, cinnamon, baking powder).
3. Gradually stir the wet mixture into the dry until it forms a wet dough. Pour into the greased loaf tin and place in the pre-heated oven for about an hour – until golden brown on top and cooked throughout (check with a skewer if necessary).
4. Allow to cool in the tin. Or do as I did and try to shake it out onto a cooling wire, and be grateful you took pictures of it looking great in the tin, before it broke in half with all the shaking… No, actually, don't do that. Wait for it to cool down a bit, then ease it out of the pan. Et voila!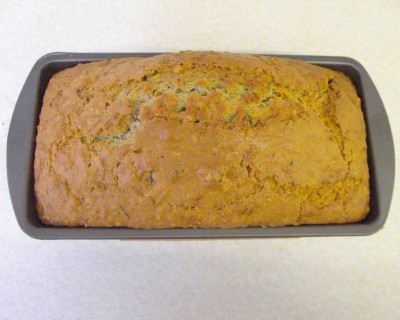 Have you made this? What did you think? I'd love to hear your thoughts!