Easy marrow and ginger jam recipe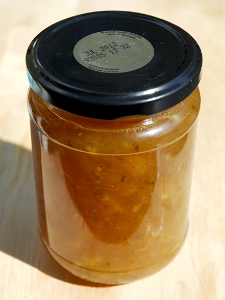 After writing up the wild plum jam recipe the last week, I realised that I hadn't written about the super easy marrow and ginger jam I made a few weeks ago.
We've had a lot of marrows this year – more by accident than design — too many courgette plants to keep up with. I used the early ones to make my marrow cake and misc cheesy marrow bake, and I gave some of them away – but we've still got maybe half a dozen to use up – so I'm jamming and chutneying like there is no tomorrow.
This jam recipe is very sweet but very easy. If you're not a fan of sweet stuff, you might prefer to use less sugar and certainly not add the crystallised ginger.



Marrow and ginger jam recipe

Ingredients:
1kg of peeled & deseeded marrow
100g of peeled root ginger
100ml of lemon juice (2 lemons)
1tsp of cinnamon
1kg of jam sugar (sugar with added pectin) or granulated sugar & some pectin concentrate
A handful of crystallised ginger, fine chopped (optional)
Method:
0. Prepare the jars by sterilising them – wash them in hot soapy water then rinse them with very hot clean water before putting them in the oven for 15-20 mins at 160C/gas mark 3.
1. Juice the 2 lemons into a small bowl.
2. Coarsely grate the 1kg of marrow and 100g of ginger into a bowl. If you're anything like me, you'll grate your knuckles several times during this process which is why you should juice the lemons first. Ow-ee.
3. Put the grated marrow & ginger into a large, heavy bottomed pan. Add the lemon juice and the 1tsp of cinnamon. Heat gently for about five minutes or so, stirring so it doesn't stick. After five minutes, the marrow should be wilting slightly and losing liquid.
4. Add the 1kg of jam sugar to the pan and turn up the heat. Stir until the sugar has dissolved then let the goop boil hard until it reaches setting point (check with the wrinkle test or similar). Start checking how set it is from about 10 minutes – it shouldn't be any longer than 20mins max.
While it's boiling, carefully scoop away any scum – trying hard not to take too much liquid with you, lest you waste some of the precious delicious sticky goodness.
5. When it's just about ready, add the optional fine chopped handful of crystallised ginger – this adds extra sweetness & ginger-fieriness so might be too much for some people but others will love it ;) It doesn't need to be cooked, just stirred throughout.
6. Once it's reached setting point, carefully pour into the still warm sterilised jars. It's a bit of a lumpy rather than smooth jam so a jam funnel (or improvised jam funnel such as the top of a big juice/pop bottle) is very useful to stop it going everywhere. Seal the jars once you're done et voila!
Have you made this? What did you think? I'd love to hear your thoughts!