No omelettes allowed: my five favourite recipes to use up lots of eggs
According to our all knowing spreadsheet, we had 200 eggs from our hens last month. 200 eggs!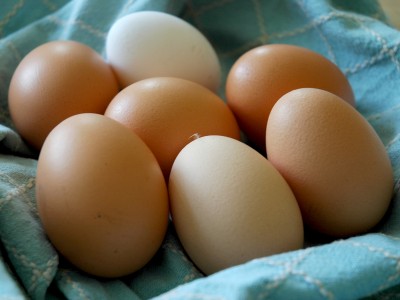 Those two hundred eggs equal an average 6.45 eggs a day from the seven girls – not enough to bother selling them at the garden gate but more than enough to keep us going! Our friends and family rarely leave without a box in their hand but we still have a good amount to get through ourselves.
John has scrambled eggs for breakfast roughly every other day, we have egg mayo lunches quite frequently and omelettes (usually either Spanish tortilla or frittatas) feature on our meal plans at least once a week – but we like to use them up in more creative, less obviously eggy ways too.
Here are my five favourite ways to use up a lot of eggs for when you're bored of omelettes :)
1) Fresh egg pasta – one to two eggs per serving
Despite having a pasta machine for a few years now (a re-gift from John's mum), we only made pasta for the first time last autumn – it was a lot of fun though and we didn't know why we'd waited so long! The egg gives the pasta a lovely richness so it only needs the lightest dressing – no heavy ragus need apply. It's perfect for having with mushrooms sautéed with garlic & chilli, with a little grated parmasan/pecorino & pepper on top. At this time of year, tangles of tagiatelle and ribbons of very lightly cooked wild garlic would toss together beautifully — mmm, am feeling hungry at the thought of it!
2) Chocolate-mocha mousse – an egg per serving
I wrote up this recipe a few weeks ago because I *had* to share. It's possibly the richest dessert I've ever eaten and, trust me, I've eaten plenty of rich desserts in my time. Starting with chocolate is a bit of a cheat but makes it really easy to make – about ten minutes melting, whisking and folding in, then a couple of hours to chill in the fridge. As I say in the recipe, if I was served this at a restaurant with a biscotti and a sprinkling of icing sugar, I'd expect to pay a fiver for it.
3) Flourless chocolate tart – an egg per serving
Ok, so this is pretty much the same as the last one, just baked but when things are this yummy, pedantry shouldn't enter into it. It was apparently one of the hottest desserts around a few years ago, when everyone was obsessed about cutting back on their wheat, so there are lots of recipes around for it – from the very simple to more flavoured ones with almonds, coffee or alcohol – or all three. I like this recipe for the same reason as I like the mousse – it's a fantastic, luxurious dessert made some simple, basic ingredients – stuff we're likely to have in.
(And while I was looking for different recipes for it, I found this equally egg heavy recipe for a chocolate cake that uses BEANS instead of flour. Apparently that too is delicious so it'll go on my to try list…)
4) Lemon curd – 5 eggs to 2.5lbs-3lbs of finished curd
Another one that is surprisingly easy to make. It took me longer to squeeze & zest the lemons than it did to make the rest of the curd – it's ten minutes on the stove, max and it's LOVELY.
5) Pickled eggs – 8-12 eggs — as many as you can fit in your jar
I'm not interested in freezing eggs at the moment because we've got such a steady supply of fresh that we'd never use the frozen ones – but pickled ones are a different thing entirely. It's not that we're pickling them to preserve them as regular eggs – we're transforming them into a whole new thing. A lovely, sharp tasty thing. By the end of the jar, they're almost eye-wateringly sharp but we had some with cheese and our sourdough bread for lunch yesterday and the chunks were a lovely, tangy highlight.
If you've got chickens, what do you do with all the eggs? Anyone got any favourite egg recipes I should try?