My winter to-do list 2013
(I wrote this last month but for some reason it didn't get published – I only noticed when I came to tick stuff off — I've actually been powering through it compared to my normal slow productivity speed!)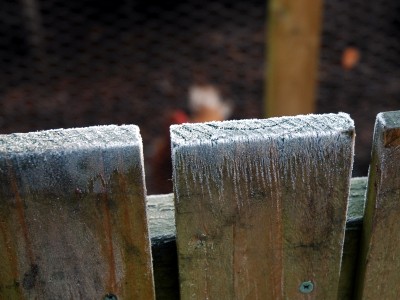 Every year for the last few years, I've written myself a "preparing for winter" list for all those jobs that have to be done before the weather turns for the worst. I'm glad I can say I've FINALLY finished all the ones on my 2010 and 2011 lists now – well, except for the things that need doing again — it's only taken me two or three winters!
Garden
The garden ones are similar to previous years – the routine stuff – though an afternoon in the garden last week has already ticked off some of the usual low hanging fruit (eg, tie up the low hanging fruit bushes!).
1. Tidy up the greenhouse & take any remaining tender plants into house for overwintering – I don't think there is anything too tender in there but I'll check.
2. Pop all terracotta containers or plastic ones holding delicate herbs into the greenhouse (and fleece if necessary) – this is a bigger job than in previous years as I bought lots of terracotta pots in the spring.
3. Add extra chippings to chicken run – John's dad brought a load of chippings a few weeks ago but I'll top them up again this month. Will hopefully stop it getting too muddy and/or freezing quite so solidly.
4. Sort out the wood pile, cut more "easy grab" logs & fill kindling bins inside and out – I'm out of my Sunday morning routine of clearing out the chicken coop and chopping the week's kindling. I need to get back into that but a kindling buffer would be good too. We also need to shuffle our logs between the different stores – some of the ones further down in the garden should be seasoned enough now to come to the near the house store. (30/10/13 -Kindling bins are full for now, and we have quite a few "easy grab" logs – just need to keep the piles stocked up.)
5. Arrange for the tree surgeon to come over – we need to trim/cut down some trees but it isn't safe for us to do it all by ourselves. We'll do some and he can do the rest.
House
1. Fix cat flap in the kitchen so it isn't so draughty – the magnet that holds the flap shut has gone. Should be fixable.
2. Fix the downstairs stove – a John job rather than one for me — something needs fire cementing again. We should also replace the cracked firebrick in the upstairs stove too. (30/10/13 – John has fixed the downstairs stove. Still need a new firebrick for upstairs though.)
3. Clean out gutters at front – after the leaves fall.
4. Wash the thicker, winter duvet – I really wish I'd thought to do this over summer but even the washing involves a trip to the laundrette and summer was rather chaotic. (30/10/13 – a kitten "accident" ensured this happened at the start of October. I washed the thin summer duvet at the same time.)
4b. Re-sew feather pockets as necessary – the feathers have been migrating through holes between the pockets.
5. Move more fragile plants out of the porch – and I guess, ditch the dying annuals from the herb shelf.
Us
I'm pretty well kitted out for winter this year – last year I got a new everyday winter coat, fab new winter boots, and lots of warm socks — in fact, I can't wait for winter in that respect!
1. New wellies for me – I've worn my wellies just about every day for three years now and they're beginning to show their age – worn soles and inners, and a hole in the shoe part. They'll be fine for pottering but I'd prefer a new pair for dog walking etc. (30/10/13 – after discovering three new holes when I wandered into the sea at Ainsdale/Southport a couple of weeks ago, I finally got my act together and got my new boots last week.)
2. Scarf (and mittens? and hat?) for John – he has reappropriated my very long scarf but I'm going to make him a little Day of The Tentacle inspired one instead. Will make matching accessories if I have enough yarn left over. (30/10/13 – I started this a couple of weeks ago – not been working on it constantly but it's nearly there. Another few evenings should do it.)
2b. Make a jumper & cardigan for me, and maybe felted slippers for John – this are maybes more than definitelys. (30/10/13 – jumper is finished, just need to tie in ends, go me! Yarn has arrived for the jumper.)
3. Tidy out our pantry/store-cupboard cupboards to get a good idea of what we've got and what we need (for us and the animals) – this is a sooner-rather-than-later one so we can stock up as necessary. We order our cat and dog food online so I'll make sure we have a spare bag in store in case there are any problems with deliveries. Chicken feed is bought locally – but they sometimes have problems getting their deliveries in bad weather so again, I'll buy an extra bag.
4. Buy a new stick blender – our old one, which has been a faithful kitchen friend for many years now, is on its way out (think: disturbing electrical crackling from within!) and I don't think it'll handle another souping season without dying spectacularly, shocking us or both.
5. Make pyjamas for Mum and a blanket for Mum & Dad's bed – share the snuggy!
What have you got to do before the cold weather kicks in?