Washing in winter: ideas for reducing laundry?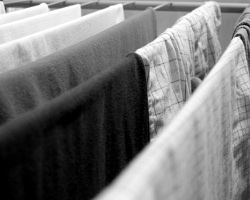 Hi guys, sorry for the radio silence for the last few days – I went on a drama training course on Tuesday and have only just recovered ;) It was a lot of fun and very useful but I'm farrrrr too lazy for what was essentially a five hour exercise class. My neck is sore and I've a huge bruise on my knee from stage combat training but on the other hand, pretending to beat up a new colleague for 2.5hrs is a really good bonding experience :)
ANYWAY, back to reality now. Lazy, lazy reality. I do like being lazy in winter because it can actually be an efficient/frugal way to do things: yesterday, John was out of the house all day so me & my aching body worked from bed until I had to go to out myself – no need for heating. And as I've said before when talking about linedrying laundry in winter, some things just get left until spring: throws/blankets get taken out of service, occasional wear that I won't need for another few months can stay in the washing basket, and bedding etc gets left in the washing basket too until a nice drying-outside day, even if that's another month (or longer) away. Lazy is good.
But I wondered what other strategies people use for reducing the amount of laundry they have to get through in winter. Aside from burst washing machine pipe incidents, the washing isn't the hard part but the line drying is, particularly if you're tight on space at home.
I remember looking into the issue of laundry a year or so ago and being shocked how much people wash clothes – a whole outfit in the wash every day – some people wash bedsheets & tumble dry every day. I mean, gosh! Around here, underwear gets changed every day, t-shirts every other day, jeans & jumpers not so much. They get washed when they're dirty, which isn't after one day for us desk jockeys. I also have different sets of clothes for different jobs – for example, my scruffs (for gardening/chicken coop cleaning/DIY) have a much higher dirtiness threshold than the nicer clothes I wear when I'm teaching.
How about you? Do you try to minimise the amount of washing you do in the winter (or all year around)? If so, what tactics do you use? If you don't – how do you keep on top of it all in the cold days of winter?