How I line dry clothes in winter: my top five tips
Line drying clothes outside has been a near impossibility this winter – but aside from a load of bedding (including a duvet) that got vomited on (thanks Lily-dog), I've line dried everything else inside.
Here's some of the tricks I've used:
1) Get lazier – leave stuff to wash later when the weather is better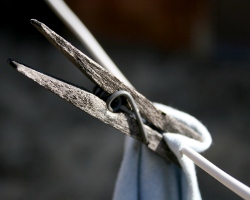 Aside from when there have been sick dog incidents, I leave stuff like towels & bedding in the washing basket until they really need doing because our stash of spare clean ones are running low – or until it looks like it'll be a nice enough day to dry a load outside. Our bedding really needs to line dry outside to blow out the animal fluff.
If heavy things like throws and cushions/pillows get dirty, they just get taken out of use until it looks like there will be a run of decent drying days (even if that means waiting until spring).
If I can't see myself wearing an item of clothing until much later in the year – some piece of occasional wear like a nice dress or skirt – then they won't get washed until later in the year either.
I'll catch up washing everything eventually but in the meantime, it means there isn't as much congestion for my limited airer space.
2) Get more organised
That congestion on the airer is my main problem so I make sure I wash loads regularly, without too much needing doing at once.
If I do get a backlog – for example when I was ill at the start of the year or when our washing machines pipes froze (then unfroze all over the kitchen), I separate by both colour (light/dark) and by weight of fabric – all coloured t-shirts etc in the first load, then heavier stuff such as jeans & hoodies in the next. The t-shirts will be dry in a day or so, emptying the whole airer for the heavier stuff, which takes three days or so to dry – rather than two mixed loads which would both take a 3+ days to dry. (Another reason to batch wash'n'dry towels rather than doing some in each load.)
Socks & underwear etc are used to fill up space whenever there is a bit of empty space. They get dried on the peg airer thing (see below).


3) Use a portable airer and move it the warmest room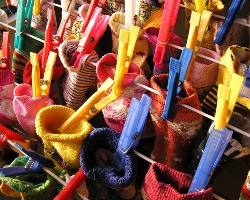 We've got an accordian-style airer which can be easily moved from room to room – or heck, even outside for the hour of weak sunshine – whether full or empty. I can move it to wherever is warmest – it typically lives in the living room but can be easily moved out if we don't want our holey pants dangling next to our friends' heads while they're here for a Movie Night ;)
Don't forget though that the moisture from the laundry has to go somewhere. Sometimes this can be a blessing – for example, woodburners and very hot central heating over-dry air in rooms and a little more humidity can be a good thing – but don't dry clothes in rooms prone to damp or without adequate ventilation.

4) Use a peg airer thing
I mentioned these last time too (I mean these things) but I think it's well worth repeating, especially at this time of year. They provide a valuable airer extension for small things like underwear and socks – and help them dry more efficiently than being doubled over an airer. We're going through loads more socks than normal at the moment – doubling up for warmth most days and whenever we're out in wellies – so I'm feeling the love for these airers more than ever.
(One of mine is slowly breaking more and more each time I use it though – I'm looking forward to making my own like Petra did!)

5) Don't put stuff on radiators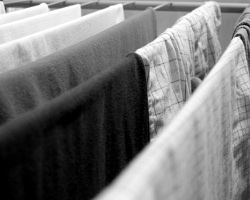 The peg airer thing also stops the temptation of putting socks on radiators. As Damn the Broccoli so deftly puts it, radiators actually heat rooms via convection – the circulation of warm air – not radiation, and if clothes or whatever are on the radiators, they dramatically reduce the air flow and so the heat output.
It's much better to put clothes on an airer near – but not too near – the radiator.

How do you find line drying in winter? Any tips or hints to share?