Buttery treacle spice biscuits recipe
I meant to write up this recipe a few weeks ago but in all the end of year/new 2011 goals excitement, I forgot. The rich dark treacle flavour and cinnamon make them a great winter biscuit – almost warming!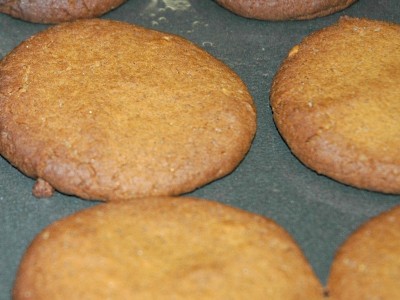 They're also a perfect fill-the-oven companion to my quick-and-easy soda bread recipe – I get my soda bread in the oven then start making these guys. By the time I've measured, mixed and shaped, it's about 20-25 mins into the soda bread baking, then the biscuits go in and everything finishes at the same time – perfect!
As there is no egg or anything like that in the mix, they're one of my favourite "cook's perks" recipes – ie, I get to "test" the dough throughout the making process and lick all the bowls & spoons at the end. :D
There is also a fourth wonderful feature of these biscuits which I say explain at the end so those with easily-offended-by-tastelessness aren't put off a great biscuit recipe! ;)



Buttery treacle spice biscuits
Makes: about 20 decent-sized biscuits
Ingredients:
200g self-raising flour
100g butter, soften so it's workable
65g soft brown sugar
1tbsp of dark treacle
1tbsp of golden syrup (or a second tbsp of treacle – if you love the dark stuff)
1 heaped tsp of ground cinnamon
A little icing sugar for dusting (optional)

Method
Note: I don't have a food processor so have to do things the old fashioned way with a wooden spoon. It would be a lot easier in a food processor!
0. Preheat the oven to about 200C/390F and grease a large cookie sheet.
1. In a large mixing bowl, mix together the butter, sugar, syrup, treacle & cinnamon – turn it from this: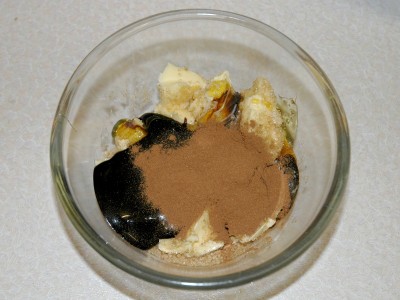 To this: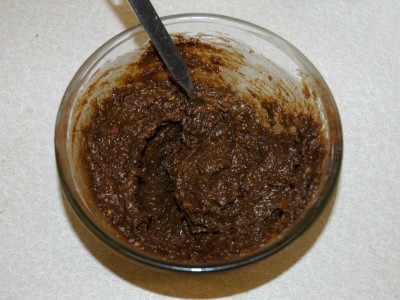 2. Add the flour to the treacle mixture then mix thoroughly until the dough is a uniform brown.
3. Biscuit shapin' time. Break off a little of the dough and roll into a ball – mine were maybe 2cm/an inch in diameter – then lightly press onto the greased cookie sheet. Be as perfectionist or slapdash as you want ;) Repeat until all the dough is used up, leaving a little space between each biscuit to allow for spreading – it makes about 20 decent sized biscuits for me, which just fits on a cookie sheet for me.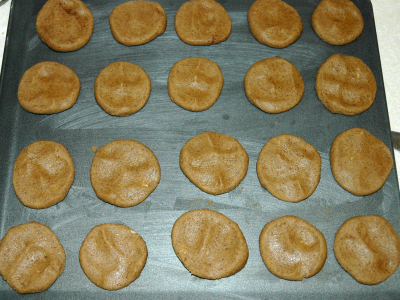 4. Bake in the pre-heated oven for 10-15 mins until the edges start to darken. Because the dough is quite dark, it's hard to see the golden-brown/brown stages of baking so keep an eye on them. The ones at the back of this pic are verging on overdone.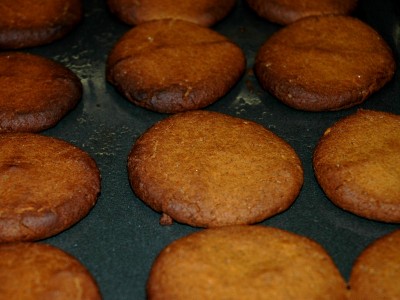 5. For a pretty end product, dust with icing sugar (or icing sugar with a little – 1/4tsp or less – of cinnamon added). I forgot to take a picture of the biscuits after doing that – but I thought the cookie sheet looked fun once I'd removed the biscuits!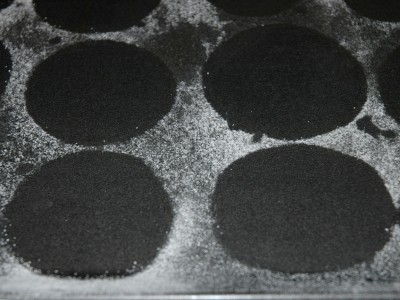 6. Try not to eat them all in one sitting. ;)
[The fourth wonderful thing. It is a great colour, sheen and texture – both uncooked and cooked – for making into dog/cat poo shapes for tricking loved ones. I did this a few years ago to John – a cat dimensioned one on his favourite hoodie. Worked like a charm ;) ]