Upcycle an old duvet cover into a frugal bean bag
(Is it just me or does "frugal bean bag" sound like a filthy euphemism? … It's just me, isn't it?)
As I mentioned in passing last week during my quick week-off updates, I made a bean bag from some old bedding.
We wanted a fairly sizeable beanbag for the animals to sit on in front of the stove in the office. We wanted one that could be a flat mattress (since that would suit the dog best) but also be pulled up on its side to be a taller seat for us when we needed extra seating. I also wanted one that had an inner liner and a washable cover because, well, everything has to be machine washable in this house.
Perhaps I was looking in the wrong places but my my, big beanbags with liners are expensive! In shops, they were either tiny, unlined or unwashable pleather/suede, or all three. On one website, which was recommended by a friend, it was looking like I'd have to pay about £80 for a beanbag to match my wants – £80! For a bean bag!! GAH!!! So I decided to make my own.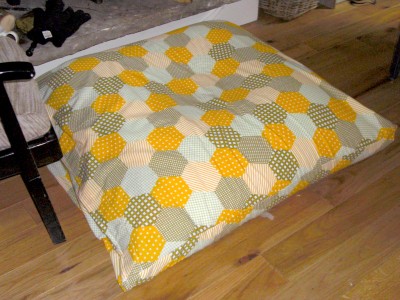 It's essentially a giant square cushion covered with a removable pillow slip case – but I've explained how I made it below.

The duvet cover
The original plan was to make my own from some neutral, grown-up fabric I've got but then I found this ace retro duvet cover in a charity shop for £1.99 — considerably more fun!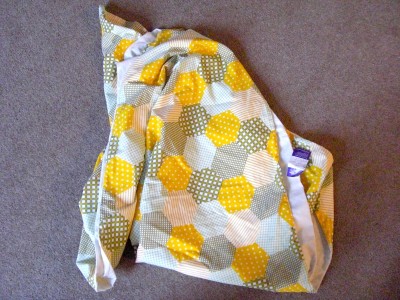 It was a single cover, with one side patterned and the other side boring white. I decided to use the white side for the liner and the patterned side for the washable outer. So the first job was picking it apart – a quick and pleasing job with a stitch ripper.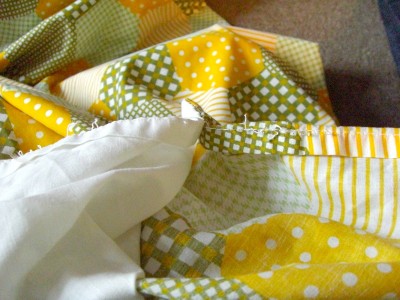 I was left with two pieces of fabric, both the same size, each about 135cm by 200cm.
Making the liner
Rather than faffing around with segments or side panels, I decided the easiest way to make it was to essentially just make a big square cushion, using the dimensions of the duvet cover to minimise cutting. I hate cutting.
I folded the white piece of fabric in half lengthways (to be double thickness/the two sides of the cushion), right sides touching, and pinned it in place. Then in the same way I'd fold a piece of rectangular piece of paper to make a square piece, I folded it along the diagonal and cut off the excess to make a square.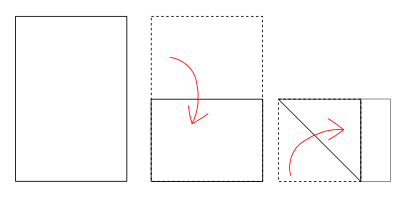 I sewed up the three open sides, except for a 15cm gap at one corner for filling – as you would do with a basic cushion. Since the lining is basically the one thing between me and a room full of bean bag beans floating all over the place, I left a decent amount of hem allowance and made sure the stitching would made a secure seam. Then I turned the lining bag the correct way out ready for filling.
Filling the liner
I bought a giant bag of bean bag filling from a bricks-and-mortar textiles/homewares shop. I paid £17.99 for 10cubic feet of beans – enough for two giant over-stuffed bean bags, so probably two maybe three more squishy ones. I've seen places online that sell it cheaper – but p&p is usually expensive because while it's light, it's bulky.
I asked my best bud Katherine on "a scale of 1 to OMG" how much of a mess I'd make with the beans. She replied "OMG to the power of 11". I surprised us both by being pretty neat!
I made a funnel from an old carrier bag – snipped a hole about 6cm in diameter in the bottom corner and pinned it into the filling hole of the liner bag. I then used a bowl to scoop from the giant bag of beans – the bag/funnel gave me a large target reservoir and the handles looped over my wrist so I could hold it all up easily.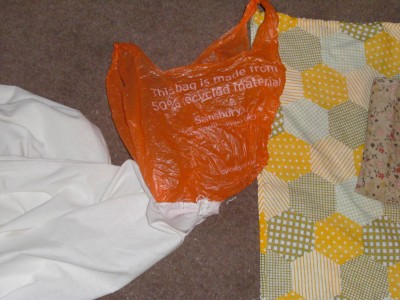 When the liner looked about two-thirds full, I removed the funnel and tightly pinned together the open filling hole, then with Carla's "help", sewed it up as tightly as could be! Liner filled & finished!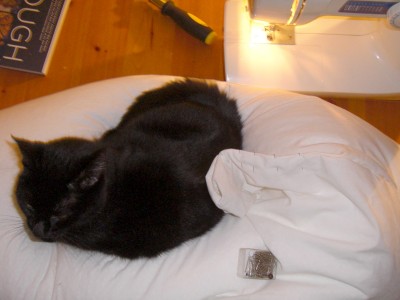 Making the washable cover
My original plan had been to make another cushion cover effort, using a zip to take it on and off. But then I couldn't find a zip long enough in my stash so I decided to make a slip-on pillow style case instead.
At this point I was blood-sugar crashing a bit so forgot to take pictures, so again I'll have to rely on a little diagram (below). There are how-tos elsewhere on how to make pillowcases properly though. It didn't help that it was at this point that Lily decided that Carla shouldn't monopolise the assistance…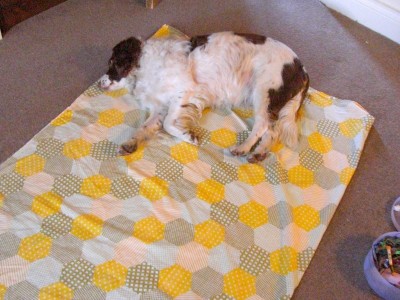 Basically, I shooed the dog away then folded the remaining side of the duvet into a square as above but rather than cutting off the waste this time, I used one side of it for the flap and trimmed down the other side to make a heavy hem.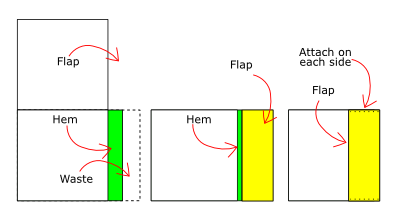 Working with the wrong sides out/right sides together, I sewed up the open sides and hemmed the heavy hem and hemmed around the flap too. Then I attached the sides of flap to sides of the bag part. I hope that makes some sort of sense! I'll post better instructions when I make my next bean bag in a few weeks.
Thankfully, given my blood-sugar had completely crashed by that point, it was finished – I slipped the liner into the cover, jiggled it about a bit then Carla tried it out for size. As you'll see, it's not exactly giving under her portly figure – it's probably stuffed a bit full but I have decided to see how it goes before opening it up – the beans might crush down a bit with use and anyway, I think I'd prefer it too stiff than too floppy.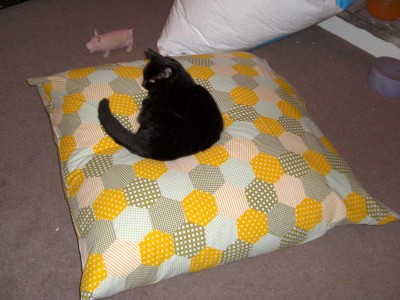 So, all in all, I spent £1.99 on fabric and used less than half of my beans – let's say £9-worth. Total beanbag cost = £11. Still not exactly free but much better than £80.