Growing salad leaves – frugal, organic & green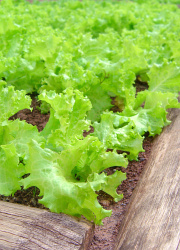 I just sowed my fourth pot of loose salad leaves of the season.
We finished the last of the just-about-to-bolt Winter Gems lettuce this week and have got a tray of Lollo Rosso seedlings in our porch/greenhouse but loose leaves has been filling the gap between those beautifully – and in three or four weeks, this new pot will be offering up its tasty leaves too.
Until we started growing our own, my partner John and I weren't big salad eater, but mostly from disorganisation than anything. We didn't have meal plans and we'd regularly find lettuce going soggy/brown in our fridge – we'd buy it for one meal, then eat some more at a second but then we'd have meals that didn't work with salad or eat out, and soon the lettuce would be past it. We realised that didn't make sense from a frugal or food waste point of view so tended to not have it at all at home, to save the waste.
Now though, from early spring to about the first frosts, we can eat fresh salad leaves whenever we want them – and without waste. A little gem lettuce is just the right size for a meal for us, or for a sandwich, we can just pick a handful of loose/"pick and come again" leaves.

It has been almost zero effort too – we're lucky that we have an almost-entirely slug-free suntrap of a balcony so we all we have to do is water them when needed. Loose leaves grow well in window boxes or any shaped container – they don't need thinning or potting on, just sow, water, wait et voila!
It's really not rocket science or a revolutionary concept but for me, it ticks all the boxes:
It's frugal – I think I've spent about £5 on seeds this year but it'll feed us salad for most of the year, and there are plenty of seeds leftover for next year too.
It's food metres not food miles – no transport costs, no packaging gases, no packaging!
It's waste-free – we pick it when we want it and only as much as we need. If there is anything leftover in the salad bowl, it goes in the compost – or will go to the chickens when they finally arrive.
It's organic – well, mine is. ;) It's so quick and easy to grow organically at home that it seems silly to do otherwise.
(Photo by psansao)