Lessons from our garden so far
As we only moved into our house last autumn, our first growing season has been one of experimentation – see what grows here, what doesn't, and what else we have to contend with.
Here's some of the lessons I've learned so far: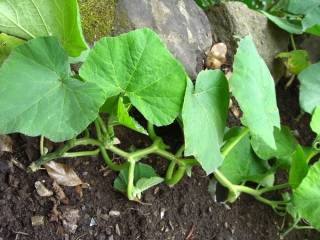 Butternut squashes take longer to germinate that most other things. I planted six seeds and a few weeks later, when everything else was well underway, I had just one sprout poking through the soil. Oh, I thought, that's a really poor germination rate. Damn you, eBay seeds!. Then I planted another 40 (…) seeds with the hope of getting half a dozen plants. And a couple of days later, the original other five seeds sprouted. And then about 30 of the second sowing. I have a lot of squash plants this year.
(Ditto, to a slightly lesser extent, courgette plants. I had seven in my original planting then got some free seeds from BBC's Dig In project and planted them too. After giving some away and losing some to one thing or another, I think we've currently got about 14 plants fruiting or about to fruit. Unsurprisingly, the self-germinating ones have been a lot more productive so far.)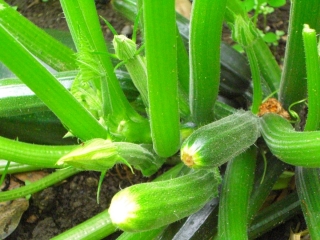 The porch – west-south-west facing – gets hotter than I thought it would. It's single-glaze so I didn't think it would hold the heat that well but we've past 40C on a couple of occasions. It's normally a good few degrees hotter than outside – which is good for some things but killer for others.
Speaking of killing off seedlings in their prime, I used the old dilute washing up liquid trick to get rid of bugs. It did lower the amount of bugs on the leaves but also burnt – I can't think of a better word for it – the leaves too. My chilli plants survived that but the smaller kale seedlings didn't. Good job it was still early enough to start another tray full – the chickens need their greens!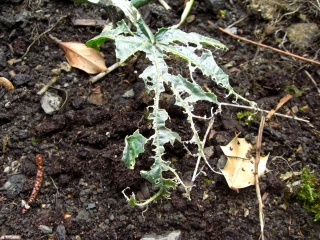 And while we're on the topic of untimely demises, neither beans or peas have faired well the garden. I waited until they had a good number of leaves before planting them outside but the local slug population was too ravenous. Where they were more protected from slugs – I grew some later peas on the balcony – the plants themselves performed poorly, hardly growing and offering up just a couple of pods per plant. Not exactly a bumper crop! Broad beans have fared the best out of all the beans & peas I've tried.
I need to plant more winter gem lettuces next year! Admittedly last year wasn't exactly a considered planting but this year I'm going to start them earlier, try a few separate plantings and grow them undercover for longer. They were a great spring salad bonus.
Similarly, I need to start more pick and come again salad earlier.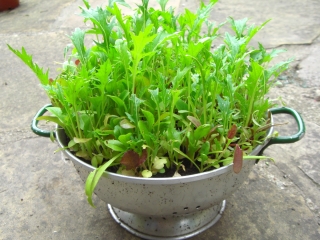 And speaking of early stuff, I need to make more efficient use of the beds. Because I only really started sowing stuff in spring, the beds sat empty for a long time. Even now, there are empty beds – waiting for the early-winter/winter/early-spring crops to grow up a bit before they're planted out. Bed efficiency can be improved greatly with better planning.
(Actually, in my defence, I drew up some lovely pretty plans in Inkscape. I also had a spreadsheet telling me what needed sowing/potting on/transplanting/harvesting and when. I've not looked at either of these things since stuff actually started growing.)
Coming back to the bed efficiency thing, I very much liked the idea of a herb bed – dill, borage and chamomile, with some lavender bushes on the edge near the steps. I sowed them all from seed in the bed itself (only to realise afterwards that I hadn't planted them in alphabetical order! chamomile, borage, dill – gah!) but only the borage made it, leaving sizeable gaps on either side. My squash plant glut has filled the spaces, which made me realise the beds should be reserved for stuff that really needs to be in a bed. Herbs are fine in tubs; next year, they'll be in tubs.
Next year, they'll be a lot more tubs in general – particularly wall/balcony/tree mounted tubs. I am also going to make some bigger versions of these containers (which I made in about 10 minutes out of scrap wood from our store) for the front garden. Make use of some effectively dead space.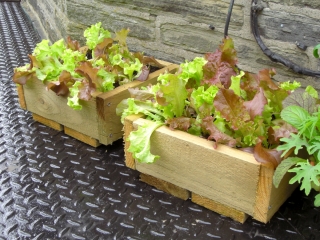 I have really enjoyed being able to give things away – veg seedlings to other growers, herbs & houseplants to the less greenfingered – and so next year, when I have more nursery space with the new greenhouse and, hopefully, a cold frame or two, I'd like to grow more of certain things so I've got plenty of surplus to pass on.
What lessons have you learned from your garden this year?