Lessons from our summer of growing
So the summer growing season is just about over here. We've still got some chillis growing and ripening, and there is some winter-time veg still on the go, but the summer is just about done.
As our first summer in our new house, I always said it was going to be a year of experimentation and by mid-season, I'd already learned a lot and made a number of resolutions for next year. The last half of the season has added to that list.
Overall, it's been a bit disappointing – I've learned from my mistakes and the quirks of this garden – but let's start with some positives: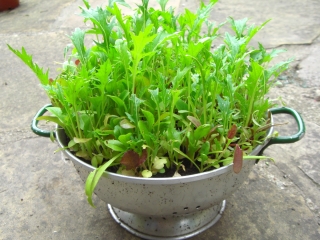 Borage has been a big success. I grew it almost entirely as a bee attractor and it did its job well. It grew bigger and better than I thought it would, and while we didn't like it, the chickens LOVE it. I won't grow it in the same place next year, but I'll definitely grow it again.
We've had a lot more courgettes (& marrow) than I thought we'd get – I gave away some of the plants and they gave one or two fruits then died, but here, they gave and gave. Wonderful.
We also had a lot of salad leaves at the start of the summer (later they became bitter, not sure why). We ate salad with both lunch and dinner almost every day for about six weeks – low effort, high impact, ace. I'll grow more next year, from earlier to later.

I've learned a considerable amount about specific vegetables but some more general things:
In order for things to reach maturity in good time here, I need to sow them (and planted them on etc) at the start of the advised growing window. We get a decent amount of sun but it's Yorkshire sun so they need as many days as possible to get up to size.
Similarly, I need to use the biggest possible pot at every stage. A lot of seedlings got either weak & leggy or stalled while waiting to be potted on. I'm tempted to start most things in pots rather than plugs next year – the space saving isn't worth it in the long run, especially as we'll have more nursery space now the greenhouse is in place.
Slugs and snails don't just eat the third I've mentally set aside for them, really devastated the peas & beans earlier in the year, then the brassicas we planted out on mass a few weeks ago. The gits. Next year I'll use nematodes just before the spring seedlings are planted out and again, before the autumn-planted ones go in. I'll also keep more cheap & nasty beer on hand to keep the slug traps filled up.
After the slugs had done their business with more than half the plants, we struggled to have enough beans or peas ready at any one time, to warrant harvesting and eating them. We found it a lot easier to enjoy veg that could be enjoyed when just one or two were ready – courgettes, tomatoes, chillis, a plant's worth of potatoes…
Only grow a manageable amount of each type of seed. I accidentally grew about 40 butternut squash seedlings (I'd planned for 5 to 8) and it overwhelmed my nursery space, our limited bed space and my equally limited time. They stalled and failed. I grew too many of a number of things too – I think the big plug trays and slug fear drew me into doing it. It would be better to grow a smaller amount of plants that I could manage more efficiently.
I think next year I'd also like to have some way of measuring our output – so I can keep a track of it year on year. I'm not sure weight is the way to do it for us because stuff like lettuce weighs next to nothing but is very valuable as an addition to a meal – usually expensive to buy in the shops and with a high food mile footprint. Ditto herbs and chillis. Perhaps I'll keep a track of output related to meals – whether it was the main ingredient, a side dish or a garnish etc.
Anyone got any good ways of tracking that sort of thing?
What lessons have you learned from your garden this year?