Ramsoms & Ricotta Ravioli Recipe (aka cheesy, spicy wild garlic ravioli)
Usually when I post recipes, they're either long-time firm favourites or new things that I've made a least a few times to try different flavour tweaks. However these suckers took a good while to make and I can't see myself finding the time to make them again before the wild garlic (Ramsoms) season is well and truly over, so I'm going to publish the recipe now after making them start-to-finish just once. They were yummy as they were :)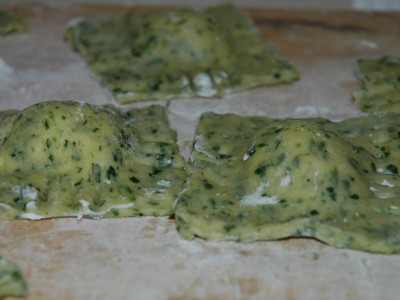 There is so much wild garlic in the woods behind our house that it seems rude not to use it as often as possible throughout the spring. We add it raw into salad, have it in mash/potato cakes for a colcannon-ish dish, use it as a pizza topping but mostly, have it on pasta — usually wilted with a little lightly fried chorizo and some olives. Yummo.
It goes so well with pasta, as a tasty spinach substitute, that I wanted to try making pasta with it – and this is the result: wild garlic ravioli. WG loses a lot of its fieriness when you cook it and the flavour here is quite subtle – which is why I served it with a sprinkling wild garlic seed pods too. Plus, they also look ace :)



Ramsoms & Ricotta Ravioli Recipe
(Yes, I like alliteration.)
Makes: 3 decent sized portions if that's all you're having; or 4 portions with meat/veg
For the pasta
225g of 00 grade pasta flour
2 large eggs
80-100g of wild garlic
pinch of salt
extra (plain or pasta) flour for dusting
For the filling
225g of ricotta
25g of parmasan
1/4 to 1/2 tsp of ground black pepper
1/2 tsp of ground nutmeg
1/2 tsp of chilli flakes
Finely chopped basil & oregano leaves (or about 1tsp of dried herbs)
To serve
About 2tsbps of wild garlic seed pods (about half a dozen flower heads)
olive oil
a knob of butter (optional)

Method
1. The first job is to wilt the wild garlic – wash it and stir it into a pan of boiling water. It will wilt quickly – doesn't need to be in there for any more than two minutes max. When it's ready, drain it, shaking off excess water, then very finely chop it.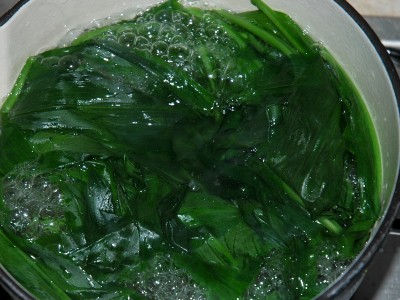 2. Crack the two eggs into a bowl and fork/whisk together. Add the wild garlic to the egg and mix together.
3. Mix the salt into the flour in a decent sized mixing bowl then make a well in the middle. Add the egg mixture to the dry ingredients and stir together. Once the dough binds together, knead it until it becomes "silky". (If you've not made your own pasta before, this is a pretty good recipe/method for it, explaining the silky smooth stage.) Once smooth, leave the dough to rest for about half an hour – wrap it in cling film or leave it in a covered bowl while you mix the filling. The dough will be very slightly green with leafy speckles, depending on how finely you chopped the wild garlic – mine got considerably greener as I worked with it.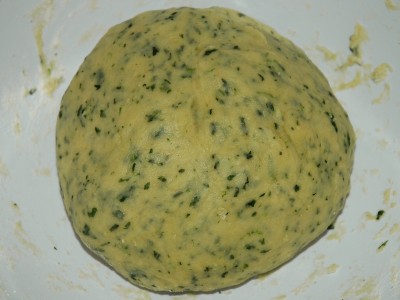 4. This filling is easy piece – it could be made more exciting with additional wilted/finely chopped wild garlic, or some pancetta or something – but this is just a cheese-fest. Mix together all the filling ingredients in a bowl, taste to check seasoning/flavour then set aside. This probably won't take more than a couple of minutes so use the rest of the half hour to have a nice cup of tea.
5. After the dough has rested, prepare it for your pasta maker or for rolling out. How you do this will depend on your pasta making skillz – mine aren't great so I cut my dough into three to work with it in smaller chunks. Roll out the dough using your preferred method (see the recipe linked above if you've not made pasta before), dusting it with flour as you go, until it's as thin as you're comfortable working with. The edges of the ravioli are going to be doubled over so it does need to be pretty thin, but there is no point going to an almost transparent level if you can't work with that.
6. Once the dough is rolled into sheets/lengths, you have to decide how you're going to make your ravioli. There seem to be two camps: the "folded over strip of dough" school and the "two separate pieces" college. I prefer the former – less work and gives nicer shaped pockets – but my pasta lengths weren't even enough to let that happen so I did the latter. I used a square cookie cutter to cut out square shapes (like the old tinned ravioli ;) ) but round ones look pretty ace too. If you want to do the folded over ones, cut the pasta into stripes about twice as long as they are wide, using the width of your pasta strip/sheet as a guide. (As with all pasta making, be careful about placing cut pieces on top of each other as they stick together without needing much pressure — we need this for our ravioli but not while we're making it! Either avoid putting them on top of each other or make sure they're evenly dusted with flour first.)
7. The pasta is now ready for filling: as a guide, my pieces were about 5cm square and I used a grape sized ball of filling.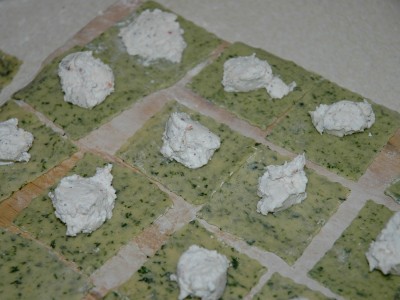 (They could have handled a little more filling though – I did some slightly smaller squares (about 4cm square) with the same amount of filling and that was a better filling/pasta ratio. The pic immediately below is a smaller square parcel, the cooked ones at the bottom are the bigger 5cm ones.)
Once filled, one parcel at a time, lightly wet the edges of the bottom piece of pasta with water and then fold over/place the top piece of pasta on the top. Gently press down the edges to seal the parcel, making sure to trap as little air as possible around the filling. For prettiness/an extra secure edge, press the tip of a fork down on each newly-sealed side of the parcel — not so much that it goes completely through the pasta but so it knits the two pieces together (you don't need to do all the edges – once in the middle of each side was enough for my parcels). Repeat until all your pasta is used up.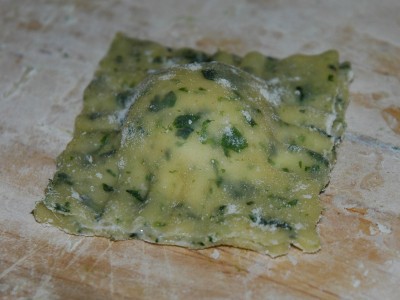 8. Fill your widest saucepan with about 3inches/9cm of water, add a splash of olive oil and bring to the boil. Meanwhile, heat about 1tsp of olive oil in a small frying pan and once hot, add the seed pods. Lightly fry the seed pods – only a minute or so – to make them a little sweeter/less intense then turn off the heat so you can concentrate on your ravioli.
9. Drop in some of the parcels of ravioli into the pan of boiling water – they'll sink to the bottom but don't crowd them as they'll start to float once they cook. Leave floating for about a minute for al dente, another minute for a little longer. (Total cooking time is about 3-4 minutes, depending on the size of the parcels.)
10. Once they're cooked, drain and serve immediately, ideally in a wide pasta bowl (not like the one I've used here) so they're not all sat on top of each other. Sprinkle with the fried wild garlic pods and a knob of butter (optional). As there is already parmasan and black pepper in the filling, you probably won't need to add any more but if you think it needs it, go wild :)