Baby broad beans, busy bees, not red currants, and other stories
Last night, when I got back from my almost-dusk walk with Lily-dog, I spent a good 15 minutes tying broad bean plants to their bean poles. I did the same job a few weeks ago but the broad bean plants had decided to have a bit of a grow since then. Somehow though, when I was busy with the beans last night, I failed to spot an array of these bad boys almost the flowers: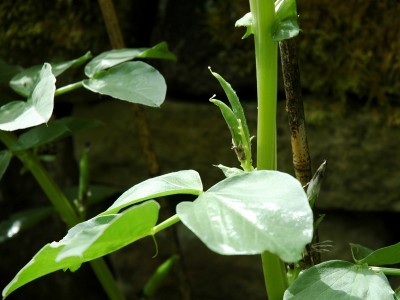 I'm not alone in getting overly-excited about the first spotting of each different type of fruit/veg, am I?
I turned around from taking that photo to spot a bee getting busy on my not-red-currants: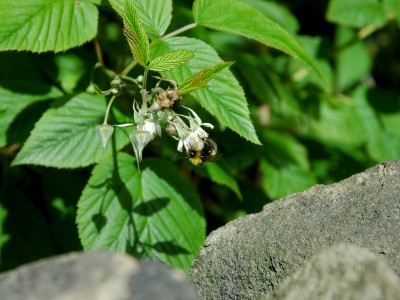 I got the not-red-currants in a batch of super cheap soft fruit from Aldi in January, along with some raspberries and black currants. I'm guessing they were mislabelled and I've got raspberries where I thought I'd have red currants and vice versa. The not-red-currants: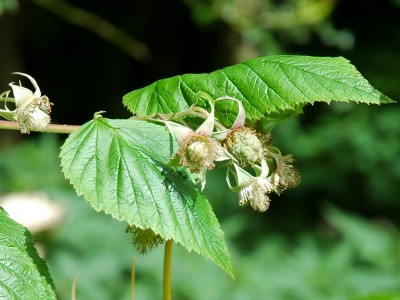 Raspberries? Could be blackberries as blackberry canes were in other sets – but seems a bit earlier for blackberry fruit. I'd prefer it not to be blackberries as we've loads of wild ones nearby but whatever, I'm easy. I'm surprised to see these fruiting this year though, whatever they are.

On the next level down in the garden, the pumpkins seem to be settling in well after being planted out last week. The speckles on the sunny leaf are soil – Lime the chicken, my favourite little trouble maker, "escaped" and kicked some soil around yesterday. Tsk, such a trouble maker.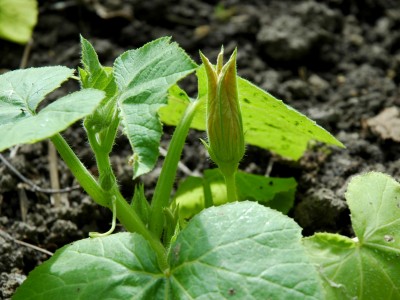 Finally, finishing as I started with something getting me unduly excited, this little rosemary plant has got me grinning: the first herb I've successfully propagated from a cutting.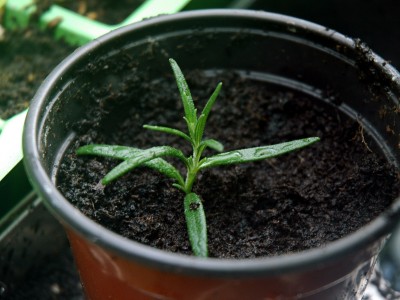 For some reason, I've not really had much experience of growing things from cuttings – but it's one of my goals for this year to learn how to take/grow on cuttings from all the (relevant) perennials in our home/garden, so I was delighted to see the healthy roots on this as I potted it on. I don't imagine it's anything exciting to anyone else but for me, it represents another baby step forward :)
What's going on in your garden/plot?