£100 for lie-ins: to get an automatic chicken door or not?
Since we got the chickens in June, I've been thinking, on and off, about getting an automatic door for their pop hole. Light-sensitive, it'll open first thing in the morning and close again after they've put themselves to bed when it gets dark. It'll allow the chickens to live to natural rhythms rather than our rhythms, and in the winter, it'll mean they get the maximum daylight possible.
But we don't really need one.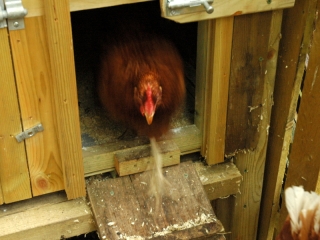 Left to our own devices, we stay up late and sleep late. I list "sleep" as an active hobby: I like the feeling of lying down, of being snuggly warm, and my vivid often lucid dreams are engrossing, often interactive, movies personalised for an audience of one. And nothing beats a lazy morning in bed, surrounded by animals, and reading a good book. Sadly that sort of lifestyle isn't conducive with having a dog, let alone chickens and while I'm quite adept at running down to the coop in my robe, then jumping back into bed for a couple more hours of snoozing, it just isn't the same. To be fair, we do get up in good time during the week but to not have to get up that early on weekends or days off, that would be great. An automatic door opener would allow us to wake up in our own time then go down to check on the chickens after breakfast.
But we don't need to have lie-ins, we just like them.

The winter sun argument is more compelling as it'll benefit the chickens rather than lazy us. At the moment, not getting to enjoy an hour or so of daylight at the start of the day is fine because they get nearly 12 hours after that, but in the winter, when it's getting dark at 4 or 5pm, every hour missed in the morning is going more important. The door closing behind them when it's dark will also help keep them warm at a time when heat will be precious indeed.
But still, we don't really need one. Again, it's down our unwillingness to get out of bed and being distracted (with this annoying little thing called work) later in the day.
Finally, having an automatic chicken pop-hole means it'll be easier to find people to look after the girls when we want to go away for a weekend. We've got people willing to pop around to feed the felines and check on the chucks – but not many who'd be able to do it first thing and last thing. An automatic door would do the hard work, and our lovely kind friends could just pop around once a day when it was convenient to them.
But STILL, we don't really need one. We don't go away much at all, we could probably organise something with our neighbours, and if push came to shove, with a bit of foreplanning, the girls could be left in their coop if we thought it was necessary. A longer holiday might be a problem but we don't really do those – just the odd night here and there.
An automatic door wouldn't stop us popping down in the morning and evening to check everything's ok – it would just make it more convenient – to enable lie-ins and nights away. But is that extra bit of convenience worth £100? For us, being frugal is about forsaking a lot of things we don't *need* and we don't *need* this expensive bit of kit. But still…