Should we get more chickens?
And on a related should-we-shouldn't-we matter, we're currently trying to decide whether or not to get more chickens.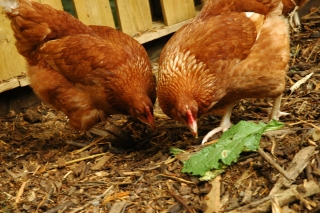 We'd always planned to get some Point of Lays in the autumn – the healthy spring chicks all growed up. According to my chicken guy, they are the best chickens to get – healthier in general and don't go into moult as quickly as those born at other times of the year so stay productive for longer.
The original plan had been to get our chickens last autumn, job done, but when the coop & run were delayed, we got our four girls in the early summer – winter chicks come of age. Now it's autumn again and we're thinking whether or not to expand our collective.
For expansion: More eggs, especially over winter when they'll all slow down.
Against expansion: We don't use the four a day we're getting at the moment. It's nice to give the spares away though. Over winter, it'll be nice to have a good supply but in more clement weather, we might get overwhelmed!

For expansion: If we have more spares, we could start selling them to cover all the food costs.
Against expansion: That might have it's own overheads and headaches that have to be considered. We might also get less willing to give them away to friends if we could "profit" from selling them to strangers – and that would be sad.
For expansion: The new hens would be a different age and breed, meaning continuity in production since they'll (hopefully) go into moult/broody at different times.
Against expansion: Introducing new hens will probably disrupt the existing birds and their pecking order, resulting in a short term drop. (This is less an argument against introducing any new birds, but more an argument against staggered introductions – adding two at a time every six months – which would be the best thing to do to maintain steady production as the flock ages.)
For expansion: It won't add to our workload – we're already getting up, checking on their water/food levels regularly, cleaning out the coop etc.
Against expansion: But it will add to our food bill and unless I up their treat collection/production in the garden to compensate, they'll proportionally less greens/scraps.
For expansion: Our coop will apparently fit 15 (although we wouldn't have more than 12 in there) and our run is good for about 8 (roughly 2msq per bird), so even doubling the number won't add to the capital costs or require rebuilding/refurbishing their housing.
Against expansion: But in the short term, it will require building an insulation wing for the new chickens to stay in as a quarantine/introductory measure. I imagine we'll just knock something up ourselves from scrap and it'll be worth having as a broody house if we decide to get hatching eggs in the future or if anyone gets ill – but it's another job, another thing to store.
For expansion: The existing coop is pretty big for just the four of them. More chickens would help keep the temperature up in the winter – they'd be more comfortable and wouldn't need as much food to burn up purely for heat production.
Against expansion: Umm, running out of arguments against now…
For expansion: The chickens we have – Lime, Green, Blue and Ms Mauve – are delightful – funnier and more clearly defined individual characters than I thought they'd have. It would be great to have more little hilarious creatures running around the place.
Against expansion: They might be funnier than me, and I won't stand for that, I won't, dammit! ;)
Getting a couple more – rather than our (self-imposed-ish) maximum of four more – might be a compromise. Decisions, decisions.