This year's wild plum/cherry plum jam
I wasn't planning to make any jam from the mysterious plum-like fruit that grows outside our kitchen window but when John said he wasn't sure if he could be bothered making wine, I had to do something with our first harvest. And boy, am I glad I did.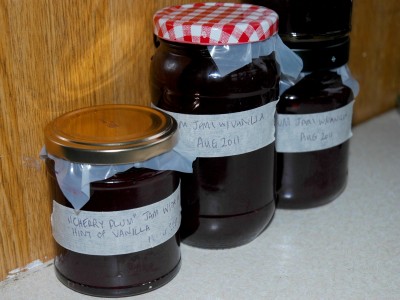 It was about 1kg of mysterious plums (pre-stoning), about 300ml of water, about 750g of sugar and 2tsp of vanilla extract/flavouring.
I'm not sure whether it's the vanilla or the fact that the plums were super mega ripe when I used them but YUM. I think it's far nicer than last year (although to be fair, it is a while since I ate last year's jam so I might be misremembering it/confusing it with something else).
I only made about 3lb because I wanted to make some ketchup with the rest of the plums I had to hand (that's cooking as I type) but it's so nice that I want to make more straight-away. Thankfully it looks like we'll get a few more kilos of fruit yet!