Spicy plum chutney recipe: plum & chilli jam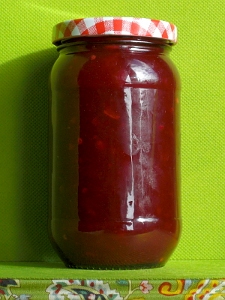 With the last of the plums from the wild tree next to our house, I made a delicious spicy plum and chilli chutney.
The plums are slightly smaller than cultivated ones but highly flavoured – both sweet & tart at the same time. Yum!
My Spicy Marrow Chutney recipe uses flavours inspired by the Indian sub-continent but this spicy plum chutney uses flavours from further east than that.
It's not a thick jelly-ish jam but is delicious spread thinly on a cracker and topped with a piece of tasty cheese. Mmm, cheese.



Spicy plum and chilli chutney recipe
Ingredients

750g of plums, halved and stoned
250ml of rice vinegar (or similar strength vinegar)
2tbsp of nam pla aka fish sauce (see note below)
400g of sugar – I used 300g granulated, 100g demerara for a richer taste
Spices:
2tsp of dry chilli flakes
1tsp of cinnamon
30g/5cm of fresh ginger root, peeled and grated (for texture)
2-3 cloves of garlic, peeled and crushed
1tsp of salt
Method
0. Prepare some jars by washing them in hot soapy water, rinsing them, then putting them in a low oven (no higher than gas mark 2/150C/300F ish) for about 20 minutes. You want them still to be warm when you're using them but they need to have cooled a bit so you can handle them.
1. Put the plums in a large, heavy-bottomed saucepan over a medium heat. Stir in the spices (including the ginger & garlic) and cook until the plums fall apart.
2. Thoroughly stir in the vinegar and the nam pla/fish sauce then add the sugar and increase the heat.
3. Bring to a rolling boil for 15-20minutes or so. We're not looking for a jelly-like setting point but near enough so when you start the boiling, put a saucer in the freezer. When the mixture starts to look ready, dollop a little of the chutney onto the sauce and place it back in the freezer for a minute to chill it slightly. Take it out again and drag your finger lightly across the surface. If there is some surface tension, it's ready; if it's still really liquid-y, keep boiling it for a couple of minutes and repeat until it does reach that point.
4. Once it's ready, ladle it into the still-warm jars and seal with vinegar-proof lids. Leave to rest somewhere cool and dark for at least a couple of weeks (preferably a month) for the flavours to develop.
Yield
About 3lbs.
Nam Pla
This adds some savoury roundness, some umami, to the chutney but it isn't in any way essential. If you don't have it/don't like it, leave it out or substitute it for something similar – like Worcester Sauce or Henderson's Relish (for fish-free veggies).
Have you made this? What did you think? I'd love to hear your thoughts!