Fishing for fruit: catching wild plums with a fishing net
Over the last week or so, we've slowly been watching the mystery fruit (on the mystery fruit tree outside our kitchen window) turn from green to deep red. We had no idea that the tree was a fruiting one until green baubles started appearing earlier in the summer and still aren't quite sure what the fruits are – we think it's wild plum. As I said the other day, John thought they tasted almost peach-ish but yesterday our friend George taste tested our harvest and declared them to be plum.
Or mostly plum.
Or plum related.
We're treating them as plums.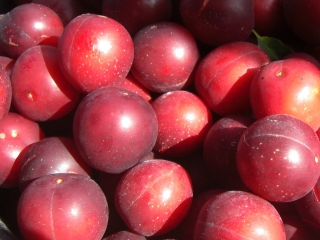 Anyway. As we've been watching them ripen, we've also been thinking about how to harvest them. Not only are they pretty high up on the tree, the ground underneath the tree steeply drops away so we have to reach up to collect even the lowest hanging fruit.
John thought about constructing a grabbing contraption like the one his granddad had for collecting apples: a grabbing basket on the end of a pole, which can be opened and closed with wires (whenever he described this, John says it was "like a muppet on a stick"). I thought about how to suspend a giant sheet underneath it and shake the fruit down. We both thought about where, if anywhere, ladders could be precariously on the slope to allow us to reach higher.
Then Damn The Broccoli mentioned his & his good lady's wild plum collecting pursuits and I had to facepalm: use a child's fishing net. We rushed out that evening and tried it out. We cupped the clump of fruit in the net and wiggled it a bit, and the fruit was so ripe that they just dropped into the net. Such a simple solution! Well done that man!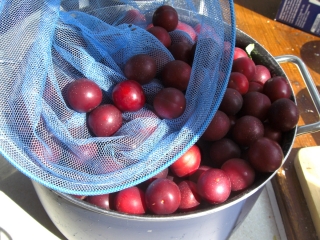 We lost quite a number to falling into the nettles underneath but collected a lot more – we haven't weighed them yet but I'd say over 3kg, maybe 4kg. There are still a good number on the tree too – ones still ripening and ones we had to leave because it was getting too dark to see clearly.
Aside from blackberries, we thought we were going to be fruit free here for a few years until our own fruit trees started coughing up some goodies so getting such a harvest from a tree so close to the house is huge bonus. I'm going to make jam from them, John might try making fruit wine.