A few days off
I've just had a few days offline to clear my head a bit – I spent a lot of time reading, resting & DSing so it wasn't as productive as four days off work usually is, but there are a few things to report:
Massive egg update
The supersized chicken egg we got on Monday has been repeated on a few days this week – not a scientific test but definitely more likely to happen after they've had a good portion of green treats the day before. We've had a couple of them and they've been double yolkers – which is a worry as it hints that there is something wrong with the fine lady's reproductive system (even though they're still young, I think they're a bit too old for it to be a "really young and still learning" quirk). Will keep an eye on the situation.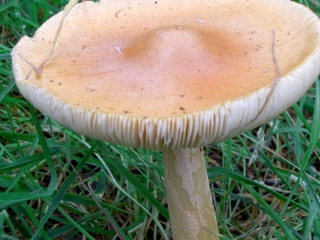 Foraging & fruiting
Took Lily-dog for a long walk around Otley Chevin on Saturday – found the most wild mushrooms I've seen in one place but unfortunately didn't have our identification books with us, doh! Took lots of pictures for post-hoc identification – means we can't forage them but the identification part is the more important bit at this stage in our learning really.
We also found the dregs of some wild raspberries – so ripe it was hard to pick them because they'd fall off as soon as we went nearly them.
Speaking of which, the bramble bushes in the woods next to our house are just about ready to give up their first glut – John had some as a pre-breakfast snack while dogwalking this morning and declared them delicious. Have to go picking soon.

And the as-yet-unidentified fruit tree right next to our house is groaning under the weight of ripe fruit. We thought they were cherries (bird or sour, not wild ones) to start with but they're too big and the stalks don't look quite cherryish. Dad thinks they're plums but I don't think they're big enough for that, and they haven't got bloom on them like plums usually do. John tried one the other day (I don't eat raw fruit so he's the main tester) and proclaimed them to be almost peach-ish in taste but with a "green apple bitterness" at the centre. We're going to make jam & pies/crumble out of them.
Jamming
In other jam news, I made marrow & ginger jam on Friday – recipe to follow soon!
Cheap supplies for next year
We were in Wilkinsons buying random household supplies the other day and I noticed they were selling off their garden stuff to make room for Christmas tat – and the discount had reached the 75% off stage: 4 x decent sized planters for 49p each and 11 packs of seeds (all dated plant by end of 2012 or 2013), including pumpkins, carrots, pak choi, chillis, beans, cucumbers and tomatoes for between 30p-50p a packet. Since John has requested pumpkins next year and I want to go crazy with beans & salad matter, it was a pretty good haul.
Potting on
Yesterday John helped me potting on a whole load of kale (Red Russian & Dwarf) and two lots of early spring cabbages – 4 trays of 40 plugs – would have taken me ages. I've always taken the lead with growing and he's not really been involved but he enjoyed the meditative quality of the repetitive task. I think he'd have preferred if it had been veg he could get more excited about (tomatoes or chillis for example) but he said it was fun. Hurrah! I got me a convert!