Buy less than 12 items of clothing in 2011 challenge – end of year update
This morning I tweeted that I think it's going to take me most of 2012 to catch up on all my leftover stuff from 2011 – and this is one of those things!
The Challenge
Last year, I set myself the challenge of buying no more than 12 items of clothing in 2011 – and I invited other people to join me. A good number of people signed up (or committed themselves to similar goals).
What I bought
I went until July (which was a full nine months since I'd bought any new clothes) before buying anything then raced up to 11 things by October!
I bought:
1 x a woolly hoodie jumper from a charity shop
4 x jeans from eBay (mostly replacements for old ones falling apart – I wear jeans all day, every day)
1 x light cardigan from a high street store
2 x t-shirts from Threadless
2 x long-sleeved tops from a high street store
1 x a cord jacket from a charity shop
I can't tell you how many things I watched on eBay, or added to basket on other online shops, or considered at in-person shops – it was a LOT but I only bought those 11 things. By and large, I thought a lot more carefully about what I was buying because I didn't want to go over my limit. That said: I still made impulse buys and mistakes. I love the cord jacket I got in October but that was a mistake: I'd spent most of the year trying to find the perfect spring/autumn jacket on eBay but then impulse bought the jacket at a charity shop even though it didn't have a hood (which was a key thing for me) — I've been rained on so many times since then! The biggest mistake though was the Threadless t-shirts I bought in September – I've had t-shirts from there before and they've been decent quality; this batch though are awful — incorrectly sized, shoddy fabric, poor stitching = unwearable. It really annoys me that I wasted two of my quota on them! GRRR!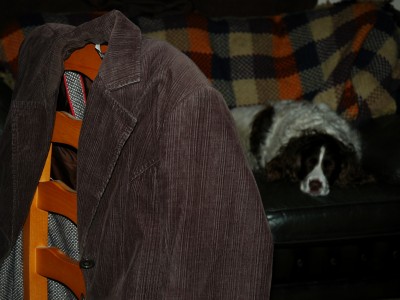 (The jacket, with the reason I keep getting rained on asleep in the background ;) )
Lessons learnt
Adding things to basket/my eBay watchlist and returning to buy them the next day (or later) is a really good way to beat impulse buy desires. I've rarely gone back to them the next morning.
I'm more likely to fall under the impulse spell at charity shops because of the "when it's gone, it's gone" thing.
Having a guide/quota rather than a "no new clothes" rule was better for me – I think I'd have got frustrated if I hadn't been able to buy anything, although it turned out that I didn't need many new items to feel like I had plenty of new things to wear.
Having a limited quota inspired me to make something rather than buy the equivalent – ok, so between NaNoWriMo and World of Warcraft, I haven't quite finished it – but I've not missed not having it either, so it shows that I didn't really need it in the first place (but I'll like it when it is finished).
I don't actually like clothes shopping any more. I think I was already in decline – I've not been able to stand clothes shops for a few years now – but now I have very, very little desire to go into them, and I can't even be bothered looking around online shops for more than a few clicks.
To not buy from Threadless again, ever.
What next?
Rather than the "no more than 12 in 11" thing, Su was trying a World War 2 ration coupon style challenge. At the end of August, she didn't think she'd make it through the year:
BUT, I'm not at all displeased about it, because the experience has taught me a lot. I can make clothes go on far longer than I did & I need very little. Actually, needing very little has been part of the reason why I'm not going to succeed in the challenge, I didn't have enough clothing at the beginning, so now that everything is in tatters it needs replacing.
I feel exactly the same: compared to my clothes buying prime, I had already cut back quite a lot over the past few years and I think I've found this challenge pretty easy because I was already on that reducing slope. But because of that, like Su, most of my favourite t-shirts/tops (particularly the limited number that I can wear to drama – ie non-boobtastic stuff) were approaching end-of-life before I started the challenge. All the tops/cardigans/t-shirts I've bought this year have been to replace those – but it's not quite been enough and I would really struggle if I stuck to a quota of 12 in 2012 (which is a shame as that's a much better challenge name ;) ).
However, that's not to say I'll go all Paris Hilton over the next year – I couldn't even if I wanted to because of my newly discovered hatred of shopping ;) I think I'll replenish my wardrobe as-and-when over the next six months and see where I am in June (or thereabouts) – I might set a new quota for the second half of the year. And until then, I think I'll have a strict "one thing in, one thing out" policy – it actually works as a pretty good buying deterrent for books and I imagine after a bit of general pruning, it'll work the same way for clothes.
If you tried the "12 in 2011" challenge (or similar), how did you do? Have you learnt any lessons that are worth passing on? Are you setting a clothes buying limit/no new clothes challenge for 2012?