Charity shopping haul: books! books! books! and yarn
I seem to go through splurging fazes – spending a lot of money in one particular spending category each month. Last month it was clothes, the month before it was crafts and the month before that was eating-out/take-out food. This month, it's looking like it'll be books.
As I've said before, I love books but have bought surprisingly few for me this year – and I think that's what inspired me to buy eight books in the first eight days of October! I think, for the sake of our bookshelves & my purse, I shouldn't keep up that rate all month!
Two were new & full price (a rarity for me), two were second-hand from Amazon and the other four were charity shop finds from Saturday. We had the good fortune of going to the charity shops in Shipley just a couple of days after someone with similar reading tastes to us had a clearout – the shelves were full of interesting non-fiction books, half of which we had and the other half spiked our interest.
I got: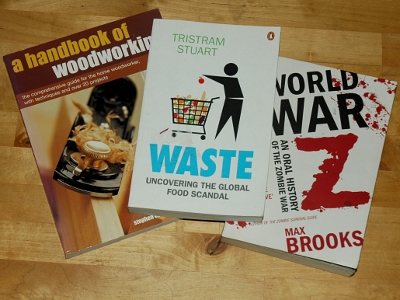 "Waste" by Tristam Stuart, a book about innovative (but often long standing) solutions to food waste, a little guide to woodworking with some easy project how-tos (I have a big encyclopedia on the same topic but this looks more immediately practical) and for fun, since I've been reading a lot of factual stuff lately, "World War Z" by Max Brooks which was amusing filed in the non-fiction section (it's presented as a non-fiction oral history but is about the Zombie War, which, you know, hasn't happen [yet]. I spent yesterday afternoon reading it and so far, would definitely recommend it to post-apocalyptica fiction fans). The books are all in really good condition but the charity's "please give this back when you're done" stickers were really annoyingly sticky and I've dented the front of "Waste" and "World War Z" by trying to peel them off. Grr.
At another shop, I picked up a little book about growing fruit: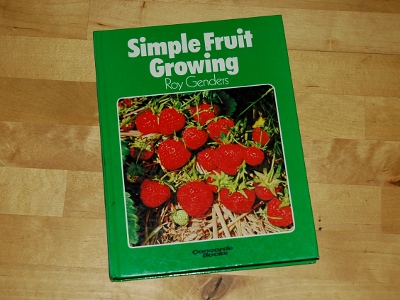 I have a couple of dedicated books about vegetables but none about fruit, just the odd reference in more general books. This one isn't the most comprehensive encyclopedia ever but has already answered a couple of questions I had about soft fruit bushes, so I think it'll be well worth 50p.
I also made two craft purchases while I was out: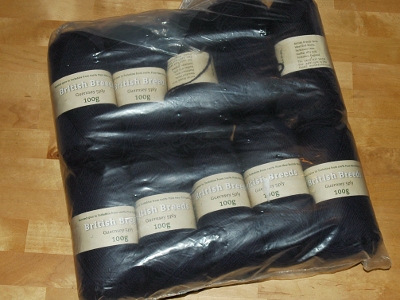 1000g of navy Guernsey, 100% wool yarn for £5. Not sure what I'll use it for yet but it's such a novelty to find enough wool for an entire project in a charity shop – and at such a bargain price too. According to the British Breeds website, their 5-ply usually retails at £5.50 per 100g ball!
I also took a chance on a squished-but-otherwise-brand-new "funky cord kit" – essentially two foam circles and some cotton threads designed for making friendship bracelets and the like.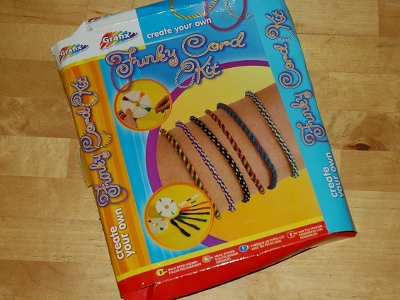 It's a kids' kit but I'm a big kid who like playing about with thread so I'll have fun trying it for 20p :)
Have you been charity/thrift/op shopping recently? If so, any good finds?